Five in a hundred Americans are wearing yellow work boots right now. So, when you're downing a mug at the window seat of your local joint, you could ask…
…why are work boots yellow?
Yellow work boots are yellow because they were initially made from Nubuck leather. Cattle and deer leather dries up to the natural yellowish color that makes yellow boots.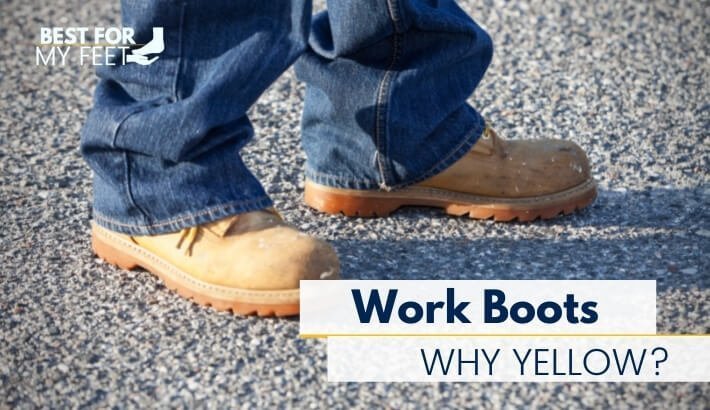 Our post explains why some Timberlands, Caterpillars, and Carhartt boots are yellow. Also, which clothes to rock with yellow work boots, and what's the history of yellow work boots!
Let's find out!
Is there any historical reason why work boots are yellow?
In 1973, Sidney Swartz from Timberland started a chain of yellow boots to get jobs done.
He specifically got a boot that would work well in fields, without caring much about its aesthetics. Swartz was probably not aware that the brand he was starting would become an icon throughout the world.
The Nubuck leather that Sidney used to make his boot had been around for several centuries. Nubuck work boots would turn yellow when dry and brown when wet. 
Also, yellow was the color of wheat fields in New Hampshire. So, the workers didn't have a problem accepting the new trend!
Do yellow work boots have any advantages over other colors?
Every work boot has specific features that make it ideal for the work environment. If color makes a difference to you, then it's worth taking a look at your options. 
As debates on the perfect color of a work boot ensue, many people are stuck. Is it brown or black or yellow? Black tends to work for every industry and fashion style.
On the other hand, brown is the color of the soil in most places, and nobody will ever know if you're dirty.
Work boots being yellow also helps you be more visible, especially when working on construction sites.
But, although they are elegant, they're protective too!
What are the yellow boots called?
Two terminologies describe yellow boots.
Timberland's Original Yellow Boot Trademark is the most popular brand.
The other name given to yellow boots is Nubuck boots.
Nubuck is leather made from deers and some cattle. The animals have yellowish-brown skins that change color when wet. The leather gains back its original yellow color when dry. 
Are yellow work boots fashionable?
If you are fashion-conscious, you will want to be sure you're wearing boots that are on the trend. And yes- comfortable yellow work boots have been in fashion for several decades!
Immediately Sidney Swartz's came to existence in 1973; they shot to instant stardom. The first international sale was to an Italian who wanted 600 boots from Sidney. The Italian sold off all the pairs and came back for more!
Then, the hip-hop culture picked the yellow work boots and ran away with them. Today, yellow Timberlands act as a trademark of hip-hop.
People in the Queens and Harlem part of New York became notorious for making yellow work boots popular. Almost everyone bought a pair of the Timberland Original Yellow Boots, and therefore the trend hit its optimum flat part of its graph.
Yet, people are gone back in the days with nostalgic trends.
So, yes- yellow work boots are fashionable because they match with lots of casual semi-casual and business casual attire. As long as you make the right pick, yellow boots will look fashionable and exquisite on you if you combine them with proper attire. 
What to wear with men's yellow work boots
If you are the blue-collar kind of man, you want yellow boots to pair well with masculine jackets and pants. Here are some of the best attires to combine with a pair of men's yellow work boots.
A pair of yellow boots, navy blue pants, a jungle green T-shirt, and a blue jeans jacket
Rock the yellow work boot with a brown camel overcoat, dark denim, and a black tee.
The yellow boots look masculine with a flannel shirt and a pair of denim pants.
If you're a blue color guy who wants to dress for an occasion about closing the deal, yellow work boots work too! Combine herringbone pants, Tweed blazer, and a bright colored shirt.
What to wear with women's yellow work boots
Two main things rule the wardrobe of a woman: comfort and elegance. When finding the right attire to combine with your yellow work boots, pay attention to those two factors!
Here are clothes that blend with yellow women's work boots:
If you want a classic outlook, get a loose collared shirt, a smart leather jacket, and blue jeans.
If you love rugged looks, wear a grey top with a brown jacket, Denim unfinished blue jeans, and yellow boots.
For a more casual look, match your work boots with Adidas sweatpants, and a bright-colored top with a handbag that matches either the boot or the pants.
Black outfits bring your best look sometimes. So, you can get a black bag, black phone, black tight fit pants, a black jacket, and then your yellow work boots. Plus, drive a black car with yellowish-brown leather seats? This makes you look like a handy girl who knows how to get her things done.
Here's a nice round-up of some of the best women's steel toe work boots if you need some inspiration!
What color are work boots in general?
Work boots come in different colors, but the most common are yellow, black, and brown. If you're seeking to buy a new pair of boots, consider the features, safety, and comfortability.
But, you shouldn't shy away from choosing the color you like. Yellow boots fit the black and brown in terms of elegance and being fashionable.
If the yellow color is not necessarily the most important thing for you, look at these most comfortable work boots. This is an awesome round-up we did about boots that will keep your feet safe and comfy all day!
Pros and cons of yellow work boots
Advantages of Yellow Boots
Disadvantages of Yellow boots
The top-grain leather is durable
Nubuck is elegant
The leather material is breathable
Comfortable
Easy maintenance with no polishing or shining
Bright, elegant color
The boot blends with most fashion styles
Has a large following in the hip-hop culture
Dries up to its original yellow color
Not ideal for mud and grit environments
Darkens when wet
Requires synthetic fortification to become waterproof
Affected by oil and grim stains
Top 6 popular yellow work boots
The Timberland Originals aren't the only yellow work boots after all. Several manufacturers have sturdy elegant Nubuck boots that you may want to look at.
1. Timberland Pit Boss
The Timberland Pro PitBoss work boots come with 100% leather, rubber sole, and comfortable footbed. The comfy suspension technology ensures you stay on the ground without hurting yourself.
Check out our Timberland PRO work boots reviews page for more boots just like this one!
2. Carhartt Flex
When you have 100% leather, and a shaft of 6.5 inches, probably the only thing remaining is a composite safety toe. And when you get all these plus some electrical hazard protection on the same boot, you are ready to go for your electrification work.
Do you want more from this brand? Then see the Carhartt work boots reviews page for more great info.
3. RockRooster Cortez
Are you buying nubucks on a tight budget? The RockRooster Cortez has some of the best features you can find on yellow work boots under $100. The steel toe cap and full-grain leather will protect you from injuries at your workplace.
Then, the CoolMax temperature management technology, and thermoplastic polyurethane sole provide consistent protection.
4. Caterpillar Outline
The ideal yellow work boots have a 100% leather, 6-inch shaft, and flexible rubber sole. The Caterpillar Outline goes ahead and gives you electrical hazard protection, and resistance to cement at a construction site.
With the steel toe, your feet are comfortably saved from compression. 
5. OUXX
For less than $100, you can look trendy and still protect your feet. OUXX is a yellow boot with a steel toe cap, a comfortable EVA rubber sole, and a unique design.
If you want a business casual yellow boot that switches up from the construction site gear to a meeting outfit in the evening, this is it.
6. Hawkwell
Let's say you don't have all the money to spend on the Timberland Yellow Originals or high-end Caterpillar boots.
All you want is a pair of boots that serve you well at your workplace and match the features of the big boys.
The Hawkwell yellow work boot provides you with a rubber sole, 6-inch shaft,  and oil-resistant waterproof leather, as well as toe protection.
Conclusion: so, are yellow work boots worth the bucks?
You know you are in the United States of America when you see several people walking in yellow work boots. You might probably say that it's because yellow is the golden color of the sun and is beautiful and conspicuous.
Or, you may argue that yellow work boots blend with different environments: from the construction sites to trekking through the woods and surviving in harsh weather.
And you are right!
By now, we hope you know why work boots are yellow and how to get pair whether that's because you want to look fashionable or simply you want to be more visible at work for safety reasons.
---
External sources if you want to read more
---
Team Members Working On This Page
Love technology, going to the beach, take care of my body, and writing (amongst other things). You'll see my face around here a little bit since I'm responsible for part of the research and writing of some of the articles you're reading on BestForMyFeet.com. I hope you'll find our content helpful and enjoyable! See you around, thanks for reading!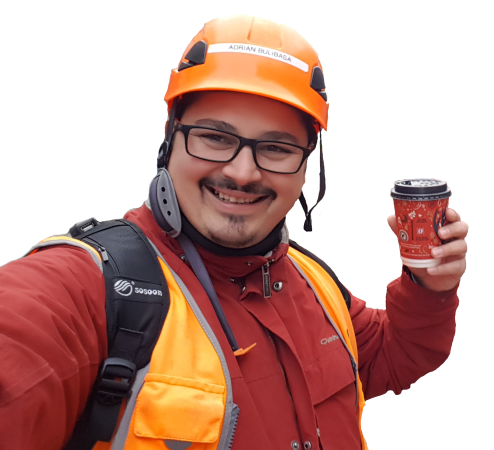 Construction Professional, driver, crane operator, cleaner, head chef … these are just some of the jobs I did in the past. Working in all these different environments taught me that having good footwear to protect your feet from different dangers at work IS PARAMOUNT for any worker! On this website, I aim to share all my knowledge and personal experience in dealing with different footwear and foot care issues, and hopefully, you can get something out of it. Enjoy!