Your great safety work boots have saved you a few attempted toe crushes when you were repairing your garage last weekend. But, as you're ironing your business casual attire for the TGIF casual Friday, you start imagining yourself in the work boot at the office.
But you don't want the fashion cops there to be on your case.
So you wonder: are work boots business casual?
Yes, work boots are business casual attire. The perfect work boots can match well with business formal dress codes. You just have to match the color to your style.
Business casual work boots give you the flexibility and freedom to express your fashion style.
So, here, I'll show you why you should wear comfortable work boots to your casual meetings.
What is considered business casual in reality?
If you're in an office setting and don't want to wear formal suits and ties, try business casual.
Classic business casual styles include khakis and specific jeans that also rhyme well with this dress code.
What to wear as business casual
Business casual is a fashion style that blends both traditional dress codes with modern professional office outfits. The idea is to give you a professional look and a relaxed style at the same time.
For instance, you could wear a dress shirt and leave out the tie or jacket if you are in business casual outfits.
Jobs are becoming remote, and the office setting is fading away.
Therefore, the attire visible or at the top makes more sense than that which is below. If you are attending a zoom meeting, you may want to be concerned more about wearing upwards than downwards.
Check the company's dress code and blend well with them.
If you are heading to a client meeting outside the office, you may want to look less formal. Blending the office attire with the casual environment results in the business casual dress codes.
And, if invited for a random meeting, you better wear business casual attire to fit in the uncertainty. At least, you will be neither too casual nor too formal.
Business casual items for men and women
Business casual for men
Slacks
Khakis
Polos
Jackets
Sportcoats
Boots
Sweater
Button-down shirt
Business casual for women
Matching belt and shoes
Women work boots
Dress pants
Khakis
Closed-toe shoes
Polo shirts
Pressed slacks
Sweaters
Industries that support business casual work boots
The definition and elements of a business casual dress code depend heavily on the specific industry. A company's culture would undoubtedly influence the consideration of attire as business casual.
Take a look at how to match your work boots with your industry.
1. Business casual work boot enthusiasts in the education sector
If you are a trainer or professor, you spend most of your time in the office or classroom. Wearing your work boots with blazers and button-up shirts helps you relax to concentrate on planning for the next lesson.
2. Fashion industry business casual code
The key to success in the fashion industry is creativity and style. The conventional business casual rules don't apply to the stylists.
Most fashionistas wear to express their artistic style through their attire. So, they keep up with the latest industry trends, and their designs aim to make a statement.
3. Agency business casual boots
If you work for a digital advertising agency, you probably understand the psychology of marketing. Everything you say or talk shall be aiming to market the agency's product.
So, the logo of your company needs to appear vividly in your attire. Some agencies have a rule that you must wear the logo somewhere on your clothes. So, most people wear boots with t-shirts or a tie with creative flair.
4. Work boots for the entertainment and showbiz
If you are in the entertainment industry, seldom will you wear full professional business attire. Instead, whatever you wear should speak volumes about you.
You're trying to get attention with unique styles and statement attire. And, to stand out, work boots and custom-made blazers and shirts create the allure you are looking for.
5. Work boots for the service industry
If you work at a hospital or transportation sector, then you're probably used to uniforms. Police officers and municipal workers also wear uniforms.
It feels proud to wear these uniforms because they serve people directly. But, that doesn't mean service workers enjoy the succinct set of codes.
And what's better than matching your uniform with the proper footwear? Work boots are built for service workers, literally. First, they are strong enough to protect you from the hazards of your work environment.
And, they come with a comfortable design for support and resilience.
6. Business casual boots for the medical industry
Medical professionals are almost always moving around in lab coats. So, they are allowed to wear casual attire as long as they wear the coat.
And, given the work they do, doctors deserve to catch a breath from the endless dress code routine, don't they? With a bit of class, healthcare workers can match up the lab coat with nice ankle boots and khaki pants.
7. Finance Industry business casual boots
Anyone working as an insurance broker or a banker is a fan of executive suits. No, that's a stereotype!
Everyone wants a break away from the norm, and bankers can wear ankle boots with khaki pants and blazers with ties for their casual Friday.
8. Tech Industry and business casual work boots
The tech industry is the hub for business casual dress codes. Have you noticed that Mark Zuckerberg, Elon Musk, and most other tech billionaires rarely wear suits?
Of course, they have a few executive suites for important in-office meetings, but that's not their style. I think there's an unwritten rule somewhere in the Silicon Valley constitution that tech guys wear dark-colored shirts, a blazer or jacket, and khaki pants with a pair of work boots.
What not to wear with business casual boots
Imagine walking to an office meeting, dressed in a lovely business casual attire, but in the Dunlop 8101110 White PVC gumboots?
It makes you look like a milkman! If you're not trying to musketeer some comedy, please don't wear that!
If you are wearing business casual attire, there are certain clothes you should keep off.
Here is what not to wear in a business casual setting:
Tight lycra or spandex
T-shirts or clothing with large text or logos
Distracting patterns
Shorts and mini skirts
Bikinis
Flip flops
Clashing colors
Neons and other bright colors
Wrinkled clothing
Distressed jeans
Oversized clothing
Strapless shirts and tank tops
Are steel toe work boots business casual?
Yes, steel toe work boots are business casual when they match your color and style. If you get a good work boot, you can even blend it with your business formal dress code.
Picture this: you've started a business that requires you to visit a client's site often. Most of your clients are industrial and not office type. So what will your business casual look like? Will you insist on executive suits or important business casual wear that looks like the job you do?
I'm pretty sure you don't want to have to carry five different pairs of shoes and boots to work every morning. Instead, you'd like a work boot that fits all facets of your work environment.
Can you wear work boots in the office?
Yes, you can wear work boots to the office. Your pants cover most of your boot, and the only visible parts are the heel, the toe, and the vamp.
As long as you're not going to the Standards and Public Approval Department Headquarters, you can wear work boots in the office!
Most work boots don't have their primary native work industry imprinted on the toe or vamp. Also, it's rare for your colleagues to come checking whether you are wearing a steel-toe work boot in the office.
Benefits of wearing work boots at work
Admittedly, work boots are not the fanciest footwear to have. But, that's not to say that they can't look good on you!
Work boots may not have been built for glamorous looks, but they pack several benefits. Your health, safety, and productivity are just the visible tips of a majestic iceberg!
1. Break monotony
Even soldiers wear something different sometimes. If you're used to being in officially styled attire every day, you may want to take a breath. A pair of work boots at work gives you some sense of motivation.
2. Feet protection
Work boots are primarily made for protection. The environment we live in is full of hazards. You may not be working at a construction site, but if your office computer trips, it could easily crash your toe. Wearing work boots at work ensures your feet are safe all the time.
3. Support
If you stand for long hours, work boots will support you to a proper posture. In fact, these pieces of footwear have anti-fatigue features that keep your musculoskeletal system healthy.
4. Keep you healthy during extreme weather
The last thing you want is for your feet to suffocate in the mud because your boots couldn't withstand the weather. Neither do you want to contract Raynaud's Syndrome or other foot conditions. Work boots shield you against cold, mud, and water.
5. It keeps your company off lawsuits
The OSHA standards regulate all companies. If you want to keep your business off the hands of the regulator, you better have work boots for your employees.
5 types of stunning business casual work boots
Of course, not all boots will make you look business casual. If you have to wear boots to the office, you had better make sure they match your style.
Fortunately, specific work boots will serve you both at the industrial station and in your office.
Here are some of the best types of business casual boots:
1. Zippered business casual work boots
Zippers help you wear and remove the work boot easily. When wearing zippered work boots to the office, cover the shaft with your pants, and they will look like typical dress shoes.
The Ad Tec Australian boots boast a trendy look and 100% letter construction. The sturdy quality design makes them durable and gives you proper traction.
2. The winter dress casual work boots
Winter boots are not for Alaskans only because there's that one time of the year when we all need them. And, you don't have to carry a winter boot in your backpack when you reach the office door.
Instead, you can get a pair of Columbia Women's Paninaro Omni-Heat pull-on snow boot that offers you Omni-heat technology and waterproof construction. Your feet are not going to freeze in the snow, and you can look business casual too.
Here are a couple of articles related to this topic:
Best winter work boots
Best waterproof work boots
Best women's steel toe work boots
3. Chelsea business casual work boots
If you ever need the perfect business casual footwear, Chelsea boots always come in handy. "Chelsea" is not the president's daughter or the soccer club. No, it's the name given to ankle-high boots!
Work boots are dressier than other designs. Chelsea boots typically take the minimalist design approach, and they offer incredible versatility. If you're wearing jeans or khakis, Chelsea boots will suit you well.
The Dr. Martens Women's 2976 Chelsea Boot with zipping is full leather and synthetic sole footwear that's a definition of sturdy elegance.
You may also try the Caterpillar Founder Wp Tx Construction Boot, which has a light, comfortable footbed. The full-grain leather is waterproof, and the Thinsulate lining keeps your feet dry.
You can wear the black, Danish brown, or Gravity grey Caterpillar ankle boots to match your style.
4. Chukka business casual boots
Chukka casual boots are gaining popularity these days because they match different dress codes. Some brands are dressier, while others are casual.
Suede leather Chukka boots come in neutral colors, including brown and green.
The Ariat Lookout Western Chukka Boot Casual Shoe is a comfortable leather chukka boot with a flexible rubber sole.
The ankle-high shaft, fabric lining, and lace-up entry make these boots quite comfy. The Ariat boot comes in three neutral colors; earth, stone suede, and foothill brown.
This boot in particular comes with a soft toe. If you want more inspiration, check out the best soft toe work boots page. You'll love the range!
Last words: So, should you wear work boots at business casual settings?
By now, you know better than to imprison your boots at the construction site! At least, you no longer have to purchase a hundred boots, while you can get one that serves the purpose for two.
Work boots aren't the classiest of boots, but they are comfortable, healthy, and trendy. And yes, you can absolutely wear your work boots to casual business meetings.
---
Team Members Working On This Page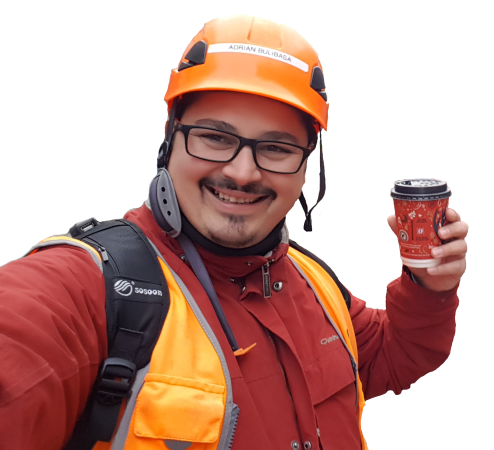 Construction Professional, driver, crane operator, cleaner, head chef … these are just some of the jobs I did in the past. Working in all these different environments taught me that having good footwear to protect your feet from different dangers at work IS PARAMOUNT for any worker! On this website, I aim to share all my knowledge and personal experience in dealing with different footwear and foot care issues, and hopefully, you can get something out of it. Enjoy!
Love technology, going to the beach, take care of my body, and writing (amongst other things). You'll see my face around here a little bit since I'm responsible for part of the research and writing of some of the articles you're reading on BestForMyFeet.com. I hope you'll find our content helpful and enjoyable! See you around, thanks for reading!