Did you know that more than 70% of people have an underlying foot condition? Uncomfortable work boots end up affecting the rest of the body posture and reactivating this condition. You can save your feet, bones, and muscles by getting comfy footwear.
But, are work boots comfortable?
Most work boots aren't necessarily made for comfort because the attention goes to durability, safety, and ruggedness. Some work boots are uncomfortable because they don't provide enough support for your feet even though they protect you from toe crushes.
Comfortable work boots need to have enough breathing room for your feet and good insoles and supporting arch.
What Makes A Good Work Boot Comfortable? (Top Features)
The most comfortable work boots are lightweight and have a breathable construction. Such footwear also has good arch support as well as thick cushioning.
A wide waterproof boot is also comfortable because it does not feel too tight. Wide boots are to feet what cars with ample legroom are to you! (check out these best waterproof work boots for inspiration)
However, how comfortable your work boots largely depends on your work environment and your type of feet. A comfortable boot for electrical engineers may be different from that of a plumber.
Here are features that will make a good work boot comfortable
#1. Removable insoles
When you are doing strenuous work, your feet muscles, and bones are under constant stress over a long period. And, the majority of workplaces have tough floors that could easily injure your feet.
Boot insoles soften the landing of your feet and reduce the chances of suffering any foot conditions. Removable insoles come in handy when you want to replace or reinforce your existing unit.
#2. Shock absorption technology
Boots with shock absorption distribute kinetic energy evenly around your feet. The EVA and FOAM material reduce the impact on your heel. But that's not enough because it could slow down your movement.
Shock absorption technology has flexible materials that keep your ligaments in a natural position while at the same time distributing kinetic energy all around your feet.
#3. Anti-fatigue
Your uncomfortable work boot could be the reason you get tired so quickly. High-end work boot manufacturers incorporate support systems that slash a considerable chunk of fatigue from your legs.
Anti-fatigue work boots employ several features that support the foot and encourage you to continue working.
For instance, the boots have unique support insole systems that reduce leg fatigue. Apart from comfort, these boots have superior arch support and a sole with suspension systems.
#4. Lightweight materials
Indeed, you don't want to drag a tonne of footwear all day long. Especially, you don't want a load strapped around your feet in a rigorous work environment. Instead, you'd like a workboot that has all protective features but lightweight.
However, balancing safety and weight is not an easy deal. It'd explain why sports shoes will always be lighter than work boots.
You can, however, have boots with lighter materials and a comfortable weight. Good work boot manufacturers usually rip off the extra weight and leave a light and comfortable boot with every other feature.
#5. Slip-resistant features
Slippery footwear is not only uncomfortable but also dangerous. When your outer sole doesn't have enough grip on the floor, you could easily fall.
Be sure to obtain oil and slip-resistant outsoles that hold those boots firmly on the ground. Wedge rubber outsoles provide enough friction to keep you standing, and they tend to be more comfortable than conventional boots.
#6. Ankle support
Besides linking the leg to the foot, the ankle has movements that control the entire body posture. An injured ankle could strain and slow down your work and movement. You should get a brace to wear with your boots.
Fortunately, advanced leather boots come with enough ankle support, and you may not have to wear ankle braces. Of course, it's advisable that you purchase real boots instead of ankle boots. 
#7. Arch support
Three arches (the medial, lateral, and transverse) form the lower part of your foot. The best work boots have got enough support for these crucial parts.
If you have flat feet, consider getting motion control boots. But, when you have high arches, look for boots that offer balance and support. However, if yours is the normal arch, get stable work boots.
How do work boots compare to a normal boot?
A work boot is quite different from a hiking boot or cowboy boot for example. While the hiking boot is comfortable and aims at giving you the thrust to walk longer, the cowboy boots, on the other hand, are decorative and stylistic pieces of art.
Then, the work boot is part of the gear for working in the industry setting.
If you work in a metal workshop, the work boot will be neither soft nor decorative. Instead, it will have protective features to ensure the tools and equipment you work with don't crush your toes.
By the way, if you're new to this type of footwear, read our page about what are work boots used for?
Feature\Boot
Workboot
Hiking Boot
Cowboy boot
Weight
Steel toes, reinforced soles, and protection features make work boots heavy
Lightweight
The tall shaft gives cowboy boots medium weight
Flexibility
It is made of rigid materials to withstand pressure, shock, and falling objects in a worksite.
Flexible sole and construction to adapt to uneven terrains
Cowboy is the most elegant and stylistic boot.
But, the rubber sole is comfortable and flexible
Traction
Rubber soles offer traction and slip resistance, but the overall work boot is a little rigid
They are built for comfort, stability, and traction
Rugged construction to assure oil and slip resistance, wear resistance, and traction
Protection
Built for safety from electric surges, falling objects, liquids, and fire.
Workboots have steel toes, water resistance, and rugged outsole
Rigid sole to protect feet from needles, thorns, hard surfaces, etc
The tall shaft protects riders from thorns, insects, and snakes
Can you wear work boots and look casual?
Yes, some work boots will give you that stunning casual look. If looks matter to you, choose the color of a workbook that rhymes well with your other outfit.
However, there are two sides to this coin, and you should be sure that it is good for you. A casual-looking work boot would save you a few bucks because you don't have to buy two different pairs of boots.
Also, you have enough traction, and you will not slip off and fall easily.
And, if you're going for a hike through thorny, rough terrain, work boots will come in handy. Just check if the boot is comfortable and light enough for your casual style.
However, you will have to withstand their low flexibility and ventilation. You also risk developing athlete's foot. 
Are work boots comfortable for walking?
Some work boots are comfortable and flexible enough to support a long hike. However, you have to appreciate that work boots are for the working environment and not necessarily working on them.
Workboots aren't the best pieces of footwear to walk on, but you can wear them once in a while. If you're going for a long hike, you may want to use boots explicitly made for walking.
We've wrote more extensively here if work boots area good for walking if you want more details.
Can you go for a quick hike wearing work boots?
Just because work boots are not as comfortable as hiking boots does not mean that you should miss out on an exciting trip. You can go for a quick hike wearing work boots as long as they're comfortable enough for you.
Basically, both boots are engineered for harsh environments and protecting your feet.
However, while hiking boots are comfortable and flexible enough for hiking, work boots are a little rigid because they aim at keeping you out of harm's way.
5 Most Comfortable Brands Of Work Boots For Men & Women
The following work boots are just a few examples that you can find on today's market. We hope these will serve you as inspiration 🙂
Doc Martens boots are popular for their high-end construction and flare. The Unisex-Adult 1460 Sr-St Work is a manifestation of the company's brilliance in making comfortable work boots. 
Here's a more complete list of some of the best steel toe work boots for women specifically.
For more than 130 years, Wolverine continues to produce some of the best work boots in the market. The Wolverine men's Overpass Composite Toe tells it all, with 100% leather and rubber sole that's not only durable but also comfortable.
Find out more about this brand by reading our page are Wolverine work boots any good?
Ankle boots, too, can be safe and comfortable, and Danner is actual proof of this. The Men's Bull Run Moc Toe 6″ is not only a rugged, durable full-grain leather boot but also comes with a rubber sole and contrasting stitch.
The comfy inner linings and OrthoLite footbed are the icings on the cake. Find our more about Danner and their products here: are Danner work boots any good?
If you ever need military boots, then you should put the Bates combat boots on your shopping list.
Bates Men's 8″ Ultralite Tactical Sport is 30% nylon and 70% leather and comes in two colors; black and brown. Enjoy the breathable lining, removable insert, light cushioning, and rubber outsole with an EVA midsole.
When you buy Timberland, you are actually investing in a 70-year-old brand that continues to lead the pack. The Timberland PRO 6-inch Direct Attach comes in black and brown, and you get waterproof construction, a complete leather exterior, and a comfy interior.
The steel toe and thermoplastic Urethane sole are durable, but they give you maximum comfort too.
Adrian from our editorial team used the Timberland Pit Boss steel toe work boots for over an year and he said a lot of good things about that boot.
Why are some work boots uncomfortable?
Work boots are mainly for work, and if you use them for any other purposes, you might find them uncomfortable. Even when you're working in them, you will not like how they feel on your feet.
That work boots are uncomfortable is just a stereotype, though, because there are hundreds of comfy units.
Heavy boots cause discomfort, and sometimes, foot pain. The Timberland 6 pit boss, for instance, weighs about 2 pounds and 10 ounces, and this is quiet and comfortable.

Pros & cons of wearing safety work boots (for work or walking)
Here we have a couple of quick and simple tables to see some of the advantages and drawbacks of wearing work boots for different activities.
Work boots for working
PROS
CONS
Ultra-protective
Resistant to oils, water, and other liquids
Custom boots for specific applications
Incorporates carbon fiber, kevlar, rubber, EVA foam, and other materials for comfort and flexibility
Durable
Heat tolerant
Electrical protection
Ultra-traction
The steel toes, alloy caps, and dense rubber make the workboot heavy
The metallic component could conduct electricity
Work boots are rigid and therefore uncomfortable
Work boots are expensive
Work boots for walking
PROS
CONS
Work boots are tougher
Extra feet protection
Work boots have excellent traction 
If you buy one good work boots for hiking, you will save money
Low ventilation does not dry quickly
Work boots are heavy
Work boots have a thick rubber which does not match the flexibility of EVA foam of hiking boots
Discomfort leads to a false economy.
Where to buy comfortable work boots?
But you shouldn't give up on comfortable work boots yet. You can buy comfortable work boots from several online stores.
Amazon is an excellent place to start. Take a look at our review of the best comfortable work boots that you can buy.
Winding Up: So, can work boots be a good choice for work and walk comfortably?
By now, you know that finding a work boot that serves well as a comfortable hiking boot is a hit-and-miss venture. But yes, you can find good work boots that fit as walking shoes too.
The most comfortable work boot has excellent cushioning, traction, flexibility, strength, and ventilation. Throughout my years as a contractor, I haven't seen anyone wearing boots with cushioned insoles that are not comfortable. 
If you have, or you want to raise a point or query, be sure to tell me in the comment section below!
Team Members Working On This Page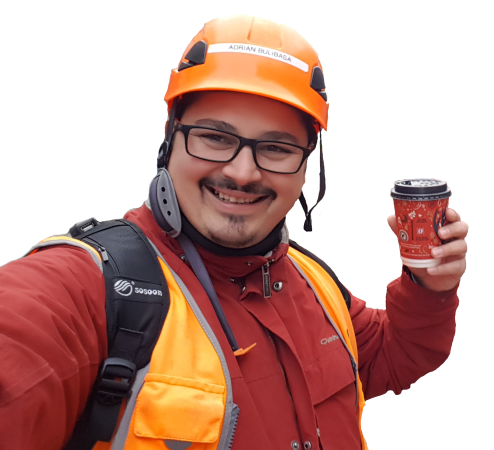 Construction Professional, driver, crane operator, cleaner, head chef … these are just some of the jobs I did in the past. Working in all these different environments taught me that having good footwear to protect your feet from different dangers at work IS PARAMOUNT for any worker! On this website, I aim to share all my knowledge and personal experience in dealing with different footwear and foot care issues, and hopefully, you can get something out of it. Enjoy!
Love technology, going to the beach, take care of my body, and writing (amongst other things). You'll see my face around here a little bit since I'm responsible for part of the research and writing of some of the articles you're reading on BestForMyFeet.com. I hope you'll find our content helpful and enjoyable! See you around, thanks for reading!