The typical workplace is full of hazards such as sharp objects, corrosive chemicals, and electrical wires. Staying safe should be your top priority, and wearing the best work boots you can save your feet from pain and incapacitation.
But are work boots considered PPE?
Yes, safety work boots are considered PPE because they protect the wearer from injuries and health hazards in the work environment.
The taxman recognizes this and will give you tax deductions for the work boots if you demonstrate they are part of your work gear.
Here's why work boots are considered PPE.
What qualifies as PPE equipment?
According to the FDA, personal protective equipment (PPE) refers to anything that protects you from injuries, illnesses, or infection.
In law, the PPE is "all the equipment (including apparel that shields you against the weather) intended to be used by a person at their place of work to protect them from any risks to their safety or health."
Typically PPE is common in health care facilities such as clinics, laboratories, and hospitals. PPE forms a barrier between the user and infectious particles. It could protect you from coming into contact with bacterial or viral contaminants.
In the construction site's setting, PPE protects workers from injuries or illnesses that result from chemical, electrical, physical, and mechanical hazards at the workplace. Workplace-related PPE equipment includes hats, vests, gloves, goggles, coveralls, safety work boots, and coveralls.
In the United States, the FDA reviews products that qualify as PPE equipment. Manufacturers have to prove to the authority that they meet all criteria for the performance of the products.
Example of PPE equipment for construction workers
Safety Helmet for head protection
Goggles for eye protection from particles, liquids, lasers, and flashlights
Earmuffs to protect your ears from loud machinery
Visibility vest to make errant vehicle drivers see you
Gloves for hand protection from sharp and hot objects as well as electrical, chemical, and biological hazards
A harness lanyard to keep you safe when you're working above 6 feet
Chap pants have ballistic fibers to protect your legs from construction site hazards
Work boots protect your feet from hot, slippery, and sharp surfaces as well as chemical, electrical, and biological hazards
What is NOT considered a safety work boot?
Lots of safety work boots may not be PPE. A safety work boot is supposed to protect the wearer from any hazards within the work environment. If a boot does not meet such standards, then it's not considered a safety work boot.
Check out the best soft toe work boots page. These are best if you work in an industry where not all the features of a safety toe are required.
Work boots that do not meet the OSHA standards for safety
Any boot that's not specifically designed to guarantee the health and safety of workers
Sporting boots
Decorative footwear
Cowboy boots
Any work boot that doesn't meet the ANSI minimum requirements
Boots that don't have enough protective features for their work environment
Boots that don't have the Anti-toe-crashing steel-toe feature
Work boots that don't have enough strength to withstand puncturing by nails or sharp objects
Boots that would allow chemicals and cement to burn into your feet
If the work boots don't have enough traction
What features a work boot must have to be considered a safety boot?
A work boot is a safety boot only if it protects your feet from falling, rolling, or from punctures from sharp objects at your workplace.
Also, the foot protection boot shields you from hot surfaces, slippery floors, uneven ground, and electrical hazards. So, a protective boot must-have features that keep your foot safe.
Employees who work in factories with hot, corrosive, or poisonous substances must cover their feet with special water/liquid-proof boots.
Electrical technicians or anyone working in an environment with electrical hazards must wear insulating non-conductive boots.
And, if working in an area with exposure to static electricity, employees need conductive boots.
OSHA and the FDA have a succinct set of features to qualify a work boot as safe. Such footwear must be consistent with ASTM 2413-05 Standards for Safety footwear.
OSHA ASTM F2413 Standards for PPE Safety Work Boots Features
Leather upper
Specialty safety toe
Non-skid soles
75 Rated Impact resistance
75 Compression Resistance Rating
A safety work boot must also meet the ANSI standards, including:
Toe guards: A hard plastic, aluminum, or steel shield to protect the toes.
Metatarsal guards: An aluminum, steel, or fiber protection feature reduces compression impact on the foot's instep.
Leggings, ankle, and calf protection: Safety boots have high shafts to protect the lower part of the leg from welding sparks, corrosion, and scratches. Safety snaps help you remove the leg quickly in case of danger.
Resistant soles: Safety boots have rigid insoles that resist puncture. The mid-soles are metallic or hard plastic to protect the feet from punctures. Then, the outer soles have high traction to prevent slips and falls.
Waterproof: If you're working in a wet environment, you'll need liquid-proof boots to prevent corrosion. (see these best waterproof work boots for more details)
Other Features of PPE-Standard Workboots Include:
Heat resistance protects you from hot surfaces.
Special-purpose boots such as those that protect you against the build-up of static electricity.
Nylon, woolen, and silk inner soles can spark static electricity and are not considered good for conductive footwear.
Employees in electrical stations should never wear conductive work boots.
Foundry work boots insulate your feet against the extreme heat from molten metals. (check out these best work boots for summer)
Who needs to provide the PPE? (Employer or Employee)
Both employers and employees have a massive role in ensuring that everyone has PPE. In the United States, the Occupational Safety and Health Administration (OSHA) requires every employer to protect employees from injuries that arise at the workplace.
Several structures are in place to enforce these health and safety rules at the state level. So, according to the OSHA's code, it's the employer's responsibility to ensure every employee has appropriate PPE equipment as per the state and federal standards.
Who needs to pay for the PPE?
Both employers and employees have clear guidelines on what they need to do to keep everyone safe.
Employers, for instance, must train all the employees on the need to use the appropriate safety gear.
Employees, on the other hand, need to wear PPE at all times. A worker has to clean, maintain, and learn how to use PPE. (read how to clean and properly maintain your work boots for longer life)
In 2008, OSHA brought a rule that required every employer to pay for personal protective equipment PPE. The standard cleared the ambiguity on who needed to pay for the PPE equipment.
Even if the employee has their PPE, the employer must provide one as per the OSHA standards.
Among the PPE equipment employers must pay for include:
work boots with steel toes and rubber soles
welding PPE
hearing protection Gear
Helmet
fire fighting equipment
non-prescription goggles for eye protection
If you're self-employed, can you write the work boots off as business expenses?
Clothes you wear daily cannot be a business expense. But, your safety work boots and other PPE all count as part of the expenditure that makes the work possible.
The IRS allows you to list work boots as tax-deductible expenditure for self-employed business owners in the USA.
Self-employed people have the right to claim the cost of the workboots under business expense. But, you have to prove that the pair of boots were essential in carrying out your work.
Then, you have to demonstrate your profession to the taxman, just to avoid any doubts. The IRS would never grant tax deductions for steel toe boots to footballers or ice cream vendors.
Does OSHA require work boots?
OSHA considers footwear just as crucial as protective coveralls, safety glasses, or gloves. You see, some work environments involve the use of hazardous chemicals, energy, or machinery.
A workstation can have lots of tools and control systems that will require you to keep walking around. If you're walking on slippery floors, you risk tripping over and injuring yourself.
All workers deserve safety, and that's why OSHA determines the quality of footwear considered as PPE. Also, the standard authority treats work boots as part of PPE.
Contractors may insist on boots with safety toes, oil resistance, leather shafts, and non-skid soles, as well as impact or compression resistance to be worn all the time.
But, the federal authority does not require employers to pay for any non-specialty footwear. The employer has the freedom to assess workplaces that require PPE.
Who needs to wear work boots?
If you work under the radar of extreme risks, you should find protective gear. Safety boots insulate you against electric shock, heat, and foot compression.
Some of the people who should wear work boots include:
Security officers
Whether they are chasing down a burglar on a wet footpath or patrolling a neighborhood with several hazards, police officers require protective boots.
Contractors
Construction site workers operate in high-risk environments involving sharp and falling objects. A steel toe is compulsory for such environments.
Delivery agents
When you have to carry heavy parcels every day, you never know when one might fall and crush your toe. Safety work boots protect you from all these hazards.
Other jobs that require safety work boots:
Plumbers
Home interior designer
Machine assembly station worker
6 Different types of work boots examples (And what they can protect you from)
1. Safety toe protection
A safety toe ensures that any heavy falling or rolling objects don't crush your feet and toes. The Thorogood Men's American heritage Moc Toe has a tobacco or tanned full-grain leather and shock-absorption footbed.
Have a look at these 10+ Thorogood work boots reviews we did. We're sure you'd like some of the models included in there.
These types of work boots are the best work boots for standing all day on concrete floors. (maybe if you're a security person or something similar)
2. Ankle-high boot
Ankle support boots prevent sprains and chronic ankle instability. The Caterpillar Diagnostic steel toe ankle-high boots offer the perfect support for your ankles.
In addition to Thinsulate Technology, it comes with an EVA foam insert and gel technology.
3. Insulated work boots
If your feet freeze still when working in the cold winter, consider acquiring insulated work boots. The Timberland Pro Boondock has an 8-inch shaft and 2-inch heel with a comfortable platform. The composite toe boot is also waterproof.
If you want more variety, check out our best work boots for winter season page.
4. Electric hazard protection
Don't join the statistics of electrocuted people – get a boat with electric hazard protection such as the Irish Setter 83605 work boot!
The 6-inch lace-up work boots come with a thick rubber-Eva outsole and full-grain leather that insulate you from both heat and electricity. Also, the boot has a Tred traction and meets ASTM F2413-11 standards.
5. PVC boots
Concrete ruins ordinary boots and injures your skin. But, with PVC boots, you can protect yourself from the burns that result from wet concrete. Dunlop Protective PVS Footwear is lightweight and 100% waterproof. The Bay-Loc energy absorption mechanism repels any liquids.
6. Wellington boots
If you are working in a wet, muddy place, you certainly don't want water to seep into your boot. The Ariat Men's Workhog Wellington boot is 100% full-grain leather, with an 11" shaft.
The rubber sole ensures you have enough traction and no water seeps inside. For more models check out the best pull-on work boots page.
Last words on the work boots as personal protective equipment
Work boots are just as critical as your gloves, helmet, and goggles. PPE equipment keeps you off the radar of injuries and work hazards.
While OSHO enforces the quality standards, the tax authority gives you cuts for the work boots you purchase. So, you need the PPE work boots for your business to comply with the law, but most importantly to make sure you stay safe and don't get injured!
At the end of the day, even a silly injury by hitting your toe against something hard can put you out of work for days or weeks. That means no money coming in. And we're sure you don't want any of that!
A work boot's safety capacity depends on its features and the type of work for which you're using them. Be sure to pick a pair of work boots that fits your work, and feet and is comfortable too!
---
Team Members Working On This Page
Love technology, going to the beach, take care of my body, and writing (amongst other things). You'll see my face around here a little bit since I'm responsible for part of the research and writing of some of the articles you're reading on BestForMyFeet.com. I hope you'll find our content helpful and enjoyable! See you around, thanks for reading!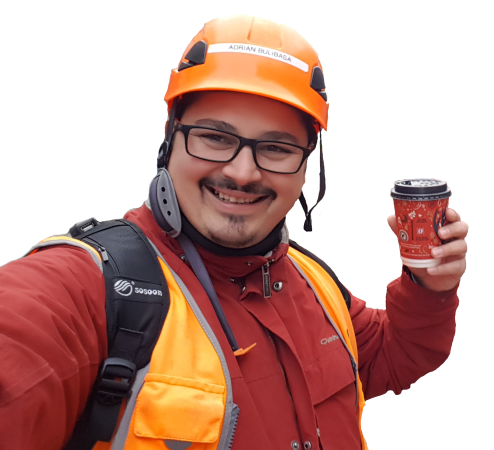 Construction Professional, driver, crane operator, cleaner, head chef … these are just some of the jobs I did in the past. Working in all these different environments taught me that having good footwear to protect your feet from different dangers at work IS PARAMOUNT for any worker! On this website, I aim to share all my knowledge and personal experience in dealing with different footwear and foot care issues, and hopefully, you can get something out of it. Enjoy!