Welcome to my Thorogood 804-4200 steel toe work boot review. I've bought these work boots for myself to wear on my construction job.

Today I'd love to share with you my personal experience with these safety work boots in case you're looking to buy a pair of Thorogood work boots for yourself. I hope it's helpful.
Reviewing The Thorogood
804-4200 Work Boots
These boots look amazing, smell amazing when you're getting them out of the box and they require no breaking in period. If it's important to you, these work boots are Union-made in the USA.
Buckle up cause it's quite a long review. For your convenience, I've created a menu for this page that's helpful to jump to a specific section. Just click on the "What's inside" below to open it.
Let's go!
Unboxing the Thorogood 804-4200
Compared to the Blundstone BL990 I've bought before these Thorogood boots, the packing is top-notch.
The boots are very well protected and the risk of getting damaged during transport is very, very low.
I like that since there's nothing more annoying to me than waiting for a new pair of work boots only to send them back because they got damaged whilst they were out for delivery.
Not to mention the time I need to wait for the boots to go back and for the seller to send me a new pair.
Here's a cool detail that came in the box. This voucher offers you a couple of options if you want to repair your Thorogood work boots.
One is just a resole of the boot and the second one is a full restoration of the boot. Pretty neat. And it's cheaper of course than buying a new pair every time your outsole wears out.
First impressions of the Thorogood steel toe boots
They look amazing, they smell amazing, they feel amazing but they're not as lightweight as I was expecting them to be.
I've heard so many reviewers on YouTube and so many other people saying these Thorogood safety toes work boots are so light, it's like walking on clouds (of course, they were talking about the boots without having the boots).
And now I'm a bit confused since these are not lightweight.
So don't trust people out there reviewing stuff without showing you they've actually worn the boots.
Features of the Thorogood 804-4200 moc toe boots
| | |
| --- | --- |
| Electrical Hazard Protection | Yes |
| Safety Toe Cap | Yes (steel toe) |
| Shank | Yes (fiberglass) |
| Resolable | Yes (Goodyear welt) |
| Waterproof | No |
| Removable insole | Yes |
| Where is made | Made in USA |
The Thorogood 804-4200 work boot on the outside
Let's have a quick look at what things we can see on the outside of the boot and then we look at what we can find inside.
1. Leather quality
The leather on these Thorogood steel toe work boots is Tobacco oil-tanned leather. This is a full-grain leather that has been tumbled which simply means the leather is nice and soft.
The bad part is that the leather won't be as tough as it was in its original form but on the positive side you won't have to spend months to break the boots in.
Work boots with this type of leather need no breaking in period. They're very comfortable from day one.
2. The outsole
The outsole on these boots is what Thorogood calls as "MAXWear Wedge" outsole. It's made out of rubber and they claim to be anti-slippery on mud and wet surfaces.
Personally, I didn't have slippage issues whilst wearing these boots. I work on smooth and unpolished concrete, tarmac, and soil.
The sole on these boots is quite flat and that makes it a good option for those of you looking for work boots for flat feet.
Also, the sole being sole quite flat will allow you to stick in there a wide variety of insoles that fit your needs.
One thing I definitely don't recommend is to wear wedge sole work boots if you have to work a lot on step ladders. The danger of slipping is quite high. Better look for work boots with a little bit of a heel.
Actually, as I was reading these lines I remember that Thorogood designers made this exact boot with a sole they've called MaxWear 90.
And that refers to the fact that the boot comes with a 90degree heel to provide more safety in areas and jobs where a flat sole could be dangerous.
3. Construction type
These Thorogood 804-4200 moc toe work boots are built using the Goodyear welt method. This makes the boot very easy to resole expanding the lifetime of the boot.
Here are more Goodyear welted work boots.
4. Eyelets and speed hooks
The boots come with 3 rows of eyelets and 3 rows of speed hooks. Additionally, at the top of the boot, there's one last row of eyelets which I don't find useful.
The point of having speed hooks all the way to the top is to have the ability to take your boots off quickly and put them on just as fast.
Whoever had this idea at Thorogood…it was a bad idea. At least in my opinion.
Inside the Thorogood 804-4200 steel toe work boot
Let's have a look at what we can find inside the boots without cutting them in half…
1. Gusseted tongue
The tongue is gusseted up to the first speed hook. It's great to keep dirt, sand, and other things out of your boots.
2. Removable insole
The 804-4200 comes with a removable shock absorption insole that's made in the US.
It's not the best out there but at least it's a comfy insole to start with having a little bit of Poron at the forefoot area and also at the heel providing cushioning and shock absorption.
The insole is more for comfort rather than support. So if you suffer from plantar fasciitis for example you should definitely change the insole with one that provides support for plantar fasciitis.
3. Lining
Some of us don't like to have lined work boots. If that's you, then you'll be pleased to know that these Thorogood 804-4200 are not lined.
4. Toe box
The toe cap in these boots is made out of steel. You might not need a steel toe cap but since I'm in the construction industry, a safety toe cap is mandatory. At least on the projects I'm working on.
On smaller projects having safety toe boots might be a suggestion and not a rule. Just think about your safety.
If you think your feet might suffer in any way, don't think twice, get yourself a pair of safety toe work boots.
5. Are they insulated?
No. The Thorogood 804-4200 work boots are not insulated so make sure you have a separate pair of work boots for the colder seasons or have a good pair of Merino wool socks to compensate for the lack of insulation.
6. Are they waterproof?
Nope. These Thorogood work boots are not waterproof. There's no waterproof membrane in them so if you work a lot in water, rain, or muddy environments then these might not be for you.
I've tested these at work and at home to see if they leak or not and if you just pass through a little puddle of water and then you'll be working on a dry surface for the rest of the day, then you'll be fine.
But they won't hold the water if you stay for too long in a deep puddler or working in the rain.
Here's a list of some of the best waterproof work boots out there.
Where are they made?
If this is something important to you these Thorogood work boots are made in the USA with components from all around the globe.
They're Union-made at one of their two Union factories in Wisconsin, US.
Will Thorogood 804-4200 fit wide feet?
I have what's considered an average foot width and I wear D. On Thorogood's website, I've seen sizes 7 through 14 with two widths only: D and EE.
This is how wide my pair of Thorogood boots are…
What the letters stand for when it comes to the width of the boot? (W,M,D,E,etc)
There's a lot of confusion about these among people looking to buy a pair of work boots. Hopefully, the little table I've put together might help you understand what's that all about!
The letters simply represent how wide the work boots are. You should not worry about this though if you want to buy the Thorogood 804-4200 since they only come in two widths: D and EE.
| Letter | Meaning |
| --- | --- |
| N or A | Narrow |
| M, or D | Medium |
| W or 2E | Wide |
| XW or 3E | Xtra Wide |
Are they lightweight? How much they weigh?
As I said earlier when I was reading and watching reviews of these Thorogood moc toe 804-4200 work boots and people kept saying they are lightweight.
To me, these work boots have a normal weight for being a safety work boot. They're not the heaviest work boots I've had but they're not the lightest either.
I'll leave a picture below for you to decide if these Thorogood safety boots are heavy for you or not.
Are they comfortable?
Not from the get-go. At least not in my experience. I feel great when I walk but they feel a bit too tight and we'll talk more about it below.
Are they true to size? Do they run small or large?
Well, I've received a pair of 9.5 D. The length of the boot is just fine but the width of the boot is what makes me say these were not the most comfortable work boots I've had.
They are too tight!!!
The boot is about 3.78inches in width at the bottom of the footbed. But as you go up towards the moccasin stitches the boot becomes narrower.
Now, I don't have wide feet, my feet are what's considered to be a regular width or D but, based on my experience, I'd recommend you to go for the wide version of your size.
Many people I've talked to about these boots have said the boots run narrow.
Do they provide support?
Yes, they provide a little bit of ankle support. If you need proper ankle support go for the 8-inch version of these boots.
I've got the 6-inch version since I don't need that much ankle support and to me, the 8-inch boots are a bit uncomfortable.
Break in period
In terms of the leather, they won't need breaking in at all. The leather on these Thorogood boots goes through a process of tumbling which makes the leather super soft.
That means you don't have to suffer to smoothen the leather. The boots won't need any breaking-in period for that matter.
There is a pain point on the left boot. I'm talking about the top of the foot behind the big toe if that makes sense. Like top side of the ball of the foot. See the image below, it will make more sense 😀
Again, many people have experienced this issue and some said the boot formed to their feet after a few days of wearing them. It wasn't my case though.
I've tried many different things to make the boots loosen up but they never did. I should've gone with the wide version or gotten half-size bigger.
Price: how much Thorogood 804-4200 cost?
It depends on where you're going to buy them but the price doesn't seem to differ from online store to online store.
You can get them on Zappos, Boot Barn, Midwest Boots, Amazon, etc for around $250 more or less. The best thing to do is to click here to check the most up-to-date price on Amazon.
Where to buy Thorogood 804-4200 moc toe?
There are plenty of online and local stores where you can find these Thorogood Heritage work boots but I personally prefer to buy them online.
I've already mentioned some of those stores above:
Amazon
Zappos
MidwestBoots
Boot Barn
Shoeteria
Outdoor Equiped
and many more…
Who do I recommend the Thorogood steel toe work boots?
These Thorogood boots are best for people working mostly indoors or in areas where the climate is mostly dry with very little rain.
That's because the boots are not waterproof and they won't keep your feet dry.
Here are some workers I'd recommend these boots to:
They're probably great for other jobs too but it just doesn't come to mind right now. Drop me a comment below with your day job and I'll tell you if they're good for you or not.
There are a lot of work boot models competing with the Thorogood Heritage work boots, but I feel like the ones I've selected above are the most notable ones.
They have lots of reviews, lots of happy customers too.
Watch the review on YouTobe if you prefer
Verdict: Are Thorogood moc toe 804-4200 worth the money?
In all honesty, these Thorogood work boots were not comfortable for me. And that's mainly because of the sizing of the boots I guess.
Since this was the first time I bought a pair of Thorogood work boots I didn't know what to expect but now I know. They run narrow so next time I buy a pair (I will buy another pair in the future) I'll buy either a wider version or a half size bigger.
I'm pretty sure that if I had a pair that fit my feet properly, I'd be more than happy to say that these Thorogood work boots are worth every single penny.
For now, I'm just going to say that you should learn from my experience and when you order your pair go for half size bigger or get the wider version.
---
Update: 3 months of wearing the 804-4200
The truth is that I could not wear these boots for a full shift for the whole period I had them. They were killing my feet at the toe area. This happened only on my left foot. The right one was ok.
After talking to people on Reddit about these Thorogood Heritage work boots I've discovered that I'm not the only one with this issue.
Many people have experienced the same problem, at the same spot!
There is even a joke going around that Thorogood has two factories. One for the left foot and another one for the right foot.

Thanks danzigg650 for the joke 🙂
That's because for many people these boots fit differently for the left foot than for the right foot.
Even the laces are different in size. The left boot has a shorter lace than the right one.
So, unfortunately, after 3 months I had to stop wearing these boots for my work and went back to my previous work boot (The Blundstone BL990).
Update on the boot width
When the boot was brand new the width was 3.78inches. Now, after wearing them for a bit longer than 3 months and oiling them the boots have stretched out a little bit.
My Thorogood work boots are 3.98inches wide now. This is just to inform you that the boots WILL stretch out a little bit.
---
Team Members Working On This Page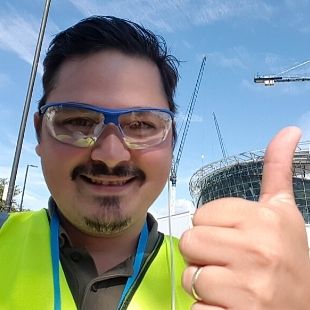 Construction Professional, driver, crane operator, cleaner, head chef … these are just some of the jobs I did in the past. Working in all these different environments taught me that having good footwear to protect your feet from different dangers at work IS PARAMOUNT for any worker! On this website, I aim to share all my knowledge and personal experience in dealing with different footwear and foot care issues, and hopefully, you can get something out of it. Enjoy!
Love technology, going to the beach, taking care of my body, and writing (amongst other things). You'll see my face around here a little bit since I'm responsible for part of the research and writing of some of the articles you're reading on BestForMyFeet.com. I hope you'll find our content helpful and enjoyable! See you around, thanks for reading!