Oil and slip-resistant work boots are designed to protect you from different dangers on the worksite.
Slip-resistant work boots protect you from falling over. The US OSHA estimates that slip-resistant work boots reduce slips and injuries, both fatal and non-fatal, by 75%.
Slip-resistant work boots emphasize having a good tread pattern on the outsole and a non-slipper sole material such as rubber or PVC.
Oil-resistant work boots prevent degradation by the work boots, as well as you slipping on oil.
If work boots are not oil-resistant, then your feet will become stained and possibly injured if the chemicals that seep through are harmful.
What is the difference between slip resistant and oil resistant? (if any)
This section of the article will define for you oil resistant and then slip-resistant work boots. It should then be absolutely clear that they are dealing with two different dangers common to workers on different work sites.
What is oil resistant
Oil resistance is the ability of a rubber product, in this case, work boots, to function whilst in contact with oil.
Oil-resistant boots are work boots that have a protective coating to prevent the oil from seeping through.
This is important because if you walk around in your workplace for hours on end without oil-resistant footwear it is inevitable that some amount of oil will get onto your boots.
Once this happens, it won't take long before your feet and socks are covered in black greasy stains–not exactly what you want during a long day at work!
Plus, if they are harmful chemicals, then having oil-resistant work boots is vital for preventing injuries.
How can you tell if a work boot is oil resistant?
If you're looking for a way to tell, the easiest thing to do is look at the bottom of your boot and see if there's any type of coating.
If there is a sticker on it that says "oil-resistant," then you know it's safe to wear this work boot in an environment with oils.
It's not always that easy though. Look at what material the boot, particularly the sole, is made from. If your worksite handles specific kinds of chemicals, you should look at this chart for common outsole materials and which materials they are resistant to.
You should also read work boot reviews online about how well these products perform in difficult conditions like deep fryers or assembly lines.
Who needs to wear oil resistant footwear?
Oil-resistant footwear is a must for many industries and jobs.
As the name suggests, these are shoes that will protect you from oil or chemicals that can seep through other shoe materials.
If you work with oils, lubricating fluids, solvents, acids, caustics, and similar substances on a regular basis then this type of footwear is an absolute necessity.
Talk with your worksites manager or safety officer to know what chemicals your worksite is using and then consult this chart to make an informed decision about which oil-resistant footwear to wear.
What does slip resistant really means
Slip resistance is the amount of resistance the sole of the boot exerts while moving over the walking surface.
Who needs to wear slip resistant footwear?
Slip-resistant footwear is now required in many industries where there is a risk of slipping.
This includes food and beverage production, healthcare, manufacturing, and warehouses. Check out our page about great work boots for people with jobs that require them to stand lots of hours on their feet.
They are also useful to stop you from slipping on high surfaces, such as ladders or work platforms. Slip-resistant boots can therefore prevent you from incurring serious injuries.
It has been proven that slip-resistant footwear reduces the occurrence of slips or falls by up to 75%.
The Occupational Safety and Health Administration (OSHA) requires employers to provide appropriate foot protection for employees who are at potential risk of injury due to slippage
Are all work boots slip-resistant? Nope, they're not.
What makes a work boot slip resistant?
Two things that make a work boot slip-resistant are the sole tread pattern and sole compound.
Generally close-packed tread pattern and a softer sole work well with fluid contaminants and indoor environments.
Circular or hexagonal treads are also a good clue to telling how slip-resistant work boots are.
Slip-resistant boots also generally have deep grooves between the treads, keeping the user in an upright position all day.
Are rubber soles slip resistant?
Yes! Rubber soles provide grip and traction which make the work boots slip resistant.
Can you somehow make your regular work boots slip resistant?
Yes! There are a number of things that you can do to make a non-slip work boot more slip resistant.
You can use a nail file to scuff the bottom of the shoes, giving them more tread and thus more slip-resistant.
Or, if that doesn't appeal to you, adhesives are a great chemical addition.
Applying bandaids or plasters to your boots, one at the heel and one at the front will make your boot more supportive while you go about your day.
Another good material that can be used is masking tape.
Puff paint, a common kind of paint found in arts and craft stores, can be used to make the surface of the boot rough and thus ensure they are anti-slip.
Another way of making your work boots slip-resistant is to apply a mixture of salt and rubber glue (in a 1:2 ratio) glue to the outsole of the shoe and leave them to dry for one hour. This will make them much more anti-slip.
Finally, scuffing the outsole of the work boot can also make it more slip-resistant. Simply scuffing the outsole on concrete or gravel should do the trick.
However, be careful to not scuff the soles too much and break them.
What work boots are slip resistant (Examples)
Here we will tell you about three great slip-resistant work boots available for you to purchase.
The Timberland Pro contains a unique patented SR Max MaxTrax slip-resistant tread design.
Tread design is vital for a good anti-slip work boot, and the Max Max Trax gives the work boot the maximal possible surface area for good traction and non-slipperiness.
The deep grooves and irregular design are perfect and unique for a good slip-resistant work boot.
You didn't know Dr. Martens's boots are good as work boots? Yes, they might not be as popular as other brands (at least not as industrial boots) but these Dr. Martens Unisex work boots are of such high quality that they meet ASTM F1677-2005 slip-resistant standards.
The air-cushioned sole has been re-engineered with an enhanced grip for next-level slip resistance. The treads have been specially engineered to ensure you remain upright all day.
The Vibram Rubber Sole on the Dunlop Protective work boots have been specially engineered to ensure you don't fall and injure yourself.
A 'rigger' boot, they are also designed to be taken off quickly if you fall into water while on oil rigs.
Slip-on work boots are also great for farms and agricultural workers.
What work boots are oil resistant (Examples)
The Thorogood Men's Oil Rigger is a fully-oiled leather work boot that is highly resistant to degradation by chemicals and materials.
The Vibram rubber outsole with TC4 compound is resistant to a huge variety of chemicals, and so will keep your feet safe from stains or harms.
It's also made in the USA, so by buying this boot using all American hides, so by purchasing this work boot you are supporting American jobs and manufacturing during tough economic times.
Another great oil-resistant choice is the Heavy Industry Boots from Dr. Martens. The feature that makes these work boots specially designed for workers in heavy industry is the Polyvinyl Chloride sole.
PVC soles are one of the most effective materials for an oil-resistant sole, and this work boot will resist oils, fats, petrol, and alkalis.
The exclusive outsole on the Danner Quarry USA Black Alloy Toe work boot features a 90º heel, an oil- and slip-resistant rubber compound, and a non-linear lug pattern for superior traction and debris release.
Ideal for workers both in quarries and mining, but also in oil drilling or chemical processing. Check out the research we've done on whether Danner's work boots are any good or not. Enjoy 🙂
Outro:
Slip Resistant VS Oil Resistant footwear: The bottom line
Slip resistance and oil resistant work boots are designed to protect you from different dangers.
Slip resistant work boots are designed to stop you from falling over on the worksite and injuring yourself. When shopping for work boots with this feature, look for the material the outsole is made from…
… rubber is best, and the tread design and groove depth.
There are also many things, from scuffing to applying adhesives, you can do to make your work boots more slip resistant.
Oil resistance, on the other hand, is about ensuring your work boots are not degraded by the fats, oils, and chemicals you'll find on many different industries.
The material of the sole, be it PVC, Rubber, or TPU, will change how oil-resistant they are. Look for the materials on each sole when making your purchasing decision.
Team Members Working On This Page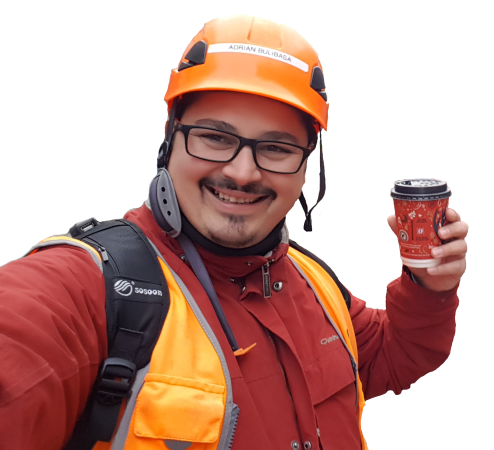 Construction Professional, driver, crane operator, cleaner, head chef … these are just some of the jobs I did in the past. Working in all these different environments taught me that having good footwear to protect your feet from different dangers at work IS PARAMOUNT for any worker! On this website, I aim to share all my knowledge and personal experience in dealing with different footwear and foot care issues, and hopefully, you can get something out of it. Enjoy!
I'm an MA student currently working on a research project for King's College London Museum of Life Sciences alongside my MA dissertation. I have been published in my student newspaper, The Spectator, and the Adam Smith Institute. I'm doing part of the research and writing of the content you'll read on BestForMyFeet.com Enjoy!