Today we are going to talk about work boots and hunting boots, how they compare to one another and if they can be used interchangeably.  
We will go over how certain features of a work boot provide your feet protection and how hunting boots also have special features that give you the best protection when out in the woods.
We will also touch on the cost of work boots and hunting boots, if there are any other costs and if it's worth it to buy more expensive work boots.
For those of you who never had any of these types of boots before here's what each one of them is…
What is a work boot?
When you find yourself in a new job, it may end up being one that requires you to wear work boots. Work boots are just as important and essential to your job as any other piece of equipment being used.
They provide protection for your feet with steel toe caps and heavy leather. They give you warmth and keep your feet dry.
The thick rubber soles and treads give you traction to steady yourself on whatever surface you find yourself working on. Work boots are made to be worked in.
They are a tool to get whatever job you're working on done, all the while giving your feet comfort, protection, and usefulness around the clock, day in and day out.
What is a hunting boot?
I have family who makes yearly trips to deeply forested lands here in Washington. They hunt deer all the while staying in a dry cabin with no running water and no electricity.
They take everything they need with them, including good hunting clothing and boots.
Hunting boots are an important piece of their wardrobe when traversing the landscape for several hours a day, looking for and waiting for their prey to make an appearance.
A good pair of hunting boots mean dry protected feet that can handle walking over a variety of terrains and ground all day. They are often long enough to provide your shins with some coverage and to protect them from small critters and insects that tend to bite when encountering a human leg.
Hunting boots are made with lightweight and water-resistant material and include soles that are flexible and durable. A hunting trip will go better if one has the right pair of hunting boots.
Work boots vs hunting boots when it comes to durability
Work boots durability
If you invest in a good pair of workboots, you will get back a boot that could last you 12-24 months with love and care. If you have a pair that can be repaired and have the soles replaced after they wear out, work boots can potentially last you decades!
Some of the lower-budget work boots will of course have shorter lifespans.
But if you put in the time to care for them and want to pay extra to have them professionally repaired, then even a low-cost work boot can last you a number of years (always depending on how harsh is your work environment on work boots).
Just like a good pair of work boots, hunting boots are going to last you years depending on how much care you put into maintaining them.
If they are soles that can be replaced, that will add years to your boots. If they are made of leather material vs synthetic material, that too can make a difference in the longevity of a hunting boot.
Hunting boots durability
Some hunting boots are made out of just rubber, which will last you a good long time. But they can dry rot, which leads to a shorter life span for your hunting boots.
It is good to research and learn how to properly care for your hunting boots so as to add to their lifespan. A good pair of hunting boots should last you 10+ years.
Hunting boots vs work boots safety features
Work boots' safety features
Work boots will often be made with some safety features to ensure that your feet are protected in whatever work conditions you find yourself working in.
One nice protection added to a lot of boots is the safety toe cap. Nowadays you have work boots with composite toe caps, alloy toe caps, steel toe caps…
Steel toe caps will save your toes from heavy material falling off a truck onto your foot. They'll give you a hard-toe upper that can be used to kick whatever you need moved or set into place.
Another great protection feature in work boots is the high heels. When a firefighter is climbing a ladder into a burning house, the heels on their work boots keep them from slipping off the rungs of the ladder.
This is also a feature that helps protect tree climbers, loggers, and linemen from slipping off branches.
Hunting boot's safety features
Hunting boots are made with safety in mind. If you're walking all day through rugged terrain, the full-grain leather hunting boots are going to keep your feet from fatigue and allow you to safely hike as much as you need through sticker bushes, brush, grass, and sticks.
They are often made to go up to the middle of your shin and provide protection from critters that like to bite, whether it's a small insect or small critter you happen upon.
Hunting boots for cold weather are made with special zero-degree insulation to keep your toes and feet from getting frostbitten.
Most hunting boots are also made with water resistance added to the structure of the boot. Dry and warm feet are important to maintaining during those long days out in the elements.
Work boots vs hunting boots in terms of price
What do work boots cost?
Walmart right now has some standard work boots that are under $80. They are not the best quality but they are made to last you 6-12 months.
They may lack comfortability but should hold up in standard working conditions. On the other hand, if you save up a couple hundred and find yourself an expensive pair of work boots, you will have a boot that will last longer, have better quality material and construction, and give your feet comfort and safety all day long at your work.
What do hunting boots cost?
Hunting boots can range in price from anywhere around $100 to $600. Why the big price difference?
Quality construction and material as well as durability. There are decent hunting boots out there that will keep your feet dry and will provide protection to your feet, but they won't hold up under heavy usage and will likely leave your feet hurting by the middle of the hunting trip.
A good solid pair of hunting boots going for a couple hundred to $600 will give you something to wear for years to come if maintained properly.
The cost of maintaining any leather boot will bring with it annual costs. You may see yourself putting in a couple thousand in one pair of boots over the span of 10 or more years.
There are people who love their boots and want to just keep repairing them rather than buy new ones. It is up to you whether you want to put that much into a single pair of boots.
Do leather work boots make good hunting boots?
Nope. Hunting boots are lightweight and made for walking many miles in. Work boots are usually heavier with thick rubber soles and steel toe caps amongst other things.
They will not be comfortable if worn as you're walking miles and miles for several hours and days in the middle of the woods. The same goes for hunting boots.
They may be comfortable to wear to work, but they lack steel toe caps and are more daunting to put on since they go up to your leg a bit further than your average work boot.
Deciding what to get
When you're shopping for work boots or hunting boots, ask yourself 3 questions;
Are they comfortable?
What's my budget?
Will they be durable?
Shopping for work boots and hunting boots can be daunting. Fortunately, we have many articles that describe many different aspects of boot craftsmanship and different types of quality boots to look into.
Research and read reviews. Reviews are a great place to get an overall good picture of what a particular boot is like and if it's worth the purchase.
Last words
Work boots and hunting boots are not interchangeable but are both important to their professions that they're used for. The unique needs of our feet depending on the work or activity we are doing should be considered before making a boot purchase.
While work boots are often heavy-duty, stiffer, and protect your toes, hunting boots will be lighter and more flexible to give your feet the natural movement they need when hiking long distances.
With proper care, work boots and hunting boots can last you many years. It is worth it to pay a little extra sometimes if you hope to have a pair of work or hunting boots that will last a long time.
---
Team Members Working On This Page
Hi! My name's Sondra and I am one of the researchers and writers here at BestForMyFeet.com. I have 5 kids who I spend my days teaching and caring for. I'm married now for 13 years to my dear husband Art, who helps his folks run a housecleaning business as well as a side business of his own for general contracting and home remodel. I'm just a high school graduate who decided to raise a family and keep the home.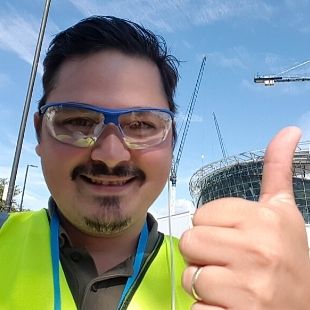 Construction Professional, driver, crane operator, cleaner, head chef … these are just some of the jobs I did in the past. Working in all these different environments taught me that having good footwear to protect your feet from different dangers at work IS PARAMOUNT for any worker! On this website, I aim to share all my knowledge and personal experience in dealing with different footwear and foot care issues, and hopefully, you can get something out of it. Enjoy!