If you have a good pair of leather work boots you must take good care of them if you want them to last longer. It's not only that, but personally, I like to look sharp at work. Yes even when wearing work boots.
Some people (especially men) roll their eyes when I talk about the looks of my work boots, but in my opinion and personal experience, the better you look, the more professional you'll come across and people will trust you more. Especially if you're like and you provide services to the community.
That's my experience anyway. So today I'll share with you how I use mink oil on my work boots in order to expand their lifespan and also to keep them in a good-looking shape.
Spoiler: it's not rocket science as some people might make it sound.
But first, let's talk about safety and if mink oil is a good product to use on leather work boots or not…
Should you use mink oil on your work boots? (is it safe?)
I never had problems using mink oil on my work boots, with one exception.
One day I was testing to see if mink oil will ruin suede/nubuck leather or not and that's how I find out it's not a good idea to use mink oil paste on work boots that are made with nubuck or suede leather. It will completely ruin them.
Other than that, I've used mink oil on all types of leather work boots, and based on my own experience mink oil didn't damage the leather or compromise the upper of my work boots.
Which mink oil solution should you use?
"What do you mean?" you might say. "How many mink oil solutions are out there?"
Well, basically there are 3 mink oil variations out there. It's the same product but in different forms:
Mink oil liquid (the most common one)
Mink oil paste (thick, solid form of mink oil)
Mink oil spray (best solution for sensitive leathers like suede)
Before you apply mink oil to your work boots
If you've never applied mink oil to your work boots you might not know this but mink oil darkens the leather. The clearer the leather of your work boot is, the more you'll see the difference.
So this is a downside of applying mink oil to light leather work boots. Here's what it did to my Thorogood American Heritage moc toe boots.
To me personally, it doesn't make that much of a difference since I work in construction and my boots do get dirty a lot.
Darkening of the leather is the least of my worries but if you work in a warehouse or maybe in the retail space, or maybe you are a manager then this is something you might want to consider before applying mink oil to your work boots.
Alright, now that this is out of the way, here's how I apply mink oil to my work boots.
What you'll need in order to apply mink oil to work boots?
I'm sure you have some of these things at home but here's what I use for this process:
Nylon brush to clean the boots from concrete, mud, and other debris
Horsehair brush to spread the mink oil
Some cloth or an old t-shirt to apply the mink oil
Mink oil solution (spray, liquid, paste)
Applying the different mink oil solutions to work boots
The first step is to clean your work boots. I don't go all in with the cleaning. Not all the time anyway.
I like to clean my work boots with saddle soap every 3-4 months to bring them back to life.
But if you're going to apply mink oil to your brand new work boots, you simply need to brush off the little bit of dirt you might have on them and you're ready to go.
Alright, so let's see how I apply each one of these mink oil solutions to my work boots.
1. Apply mink oil spray to my work boots
The mink oil spray is the safest mink oil solution for nubuck/suede/rough-out leather work boots. Also, it's the least messy of them.
In this case, I wanted to apply the mink oil spray to my steel-toed Dr. Martens work boots because the leather on these boots is very smooth (not the best quality, but it has a shiny look to it) and therefore easy to apply and spread on the boot.
Clean the boots a little bit with the nylon brush. Keep the spray about 6-8 inches away from the boots and spray as much mink oil as you want. After this just use the horsehair brush to spread the mink oil evenly and make sure you take it to the most remote parts of the boots. (into the welt for example)
Don't spray as much if you spray it on nubuck, suede rough-out leather work boots. The mink oil will be absorbed very quickly and you won't have enough time to spread it evenly. This might leave you with some bad-looking boots. Keep the spray a bit further so you can cover a wider area.
2. Apply liquid mink oil to work boots
This is the most used mink oil product. It's the most popular version and it's safe to use for all types of leather work boots. For this example, I've used these Avenger Wedge Romeo work boots. These types of work boots are the easiest to apply mink oil to since they have no laces, they're slip on work boots.
So you'll save some time there when compared to conditioning lace-up work boots.
Same as before, clean them a little bit using a nylon brush and then apply the oil to the boot.
You can use the horsehair brush or simply use a piece of cloth to spread the mink oil over the leather. The brush is better to get the mink oil in places more difficult to access like the Goodyear welt for example.
3. Apply mink oil paste to work boots
The mink oil paste is the mink oil solution I like to use to make my work boots more waterproof or water-resistant when the weather gets nasty.
For this example, I've applied liquid mink oil to a pair of Thorogood work boots. The ones I have are light-colored leather work boots so you'll see quite a difference in tone change after applying the mink oil.
Having a thicker consistency than the other two, the mink oil paste creates a layer on top of the leather and it doesn't penetrate the leather as fast as the liquid and the spray mink oil solutions. And that helps a lot with preventing the water from getting into your work boots.
To apply mink oil paste to your work boots you can use either your hands or use a cloth. When the weather gets a bit chilly the mink oil paste gets hard kinda like candle wax so you might need a hairdryer to warm it a bit in order to apply it with more ease.
I personally keep all my boot care products somewhere inside the house and I don't have this problem. but if you keep them in your garage, you might encounter this next time you want to apply mink oil paste to your work boots.
Since I work in a dirty environment (construction) going through wet concrete, sand, mud, and other things I think it's a good idea to protect the Goodyear welt stitches. That's if your work boots are Goodyear-welted. You don't have to worry about this if your work boots have a cemented constructed sole.
So basically, I just take a good amount of mink oil paste and cover the stitches with it. That should keep them safe for a few months.
If you really love your nubuck/suede work boots avoid using this product at all costs. It will damage the texture of the leather that's so characteristic of these types of leather.
Can you put too much mink on boots? (can you overdo it?)
As long as you don't soak your work boots in mink oil … you're going to be just fine.
The best thing to do is to apply mink oil slowly and progressively. Especially if you have never done this before.
It's safer to apply mink oil little by little (even though it's a bit more work) and apply a second or a third coat if necessary than putting too much and overdoing it.
I tend to put a lot of mink oil on brand-new work boots that come with very thick or stiff leather. It helps to break in the boots faster.
I'll create a video to show you how I do it in case you need to see how it's done.
How long do you leave mink oil on work boots?
After applying mink oil to your work boots simply put them somewhere out of the way and allow the mink oil to penetrate the leather. Check them again in about 30 minutes.
Sometimes my boots are so dry that after 10 minutes I need to apply some more mink oil. You can do this process two, three, four times … as many times as needed.
If you have to use the boots straight away, don't worry, it's all good.
The only problem is that the oil will get on your pants so if that's an issue then leave them overnight so the leather can absorb some of the mink oil.
Do you wipe mink oil off?
No, you don't have to wipe mink oil off your work boots. At least I don't do it.
If after leaving the boots to rest for a few hours you think there's still a lot of mink oil on the leather then get a horsehair brush and spread the mink oil again.
If you're working in a nice clean environment then you might want to wipe off or spread the mink oil since it will accumulate dist and dirt making the boots look bad.
How often should you apply mink oil to your work boots?
Apply it as much as you want. It will depend on what type of job you're doing and also the type of environment you're working in.
Usually, the more dust, dirt, and water your workplace has, the faster your work boot's leather will dry.
This means that you'll have to apply mink oil to work boots more often than if you work in a nice and dry environment such as someone working in retail or driving delivery trucks for a living for example.
So the harsher the environment, the more often you should use mink oil to protect and condition your leather work boots.
Watch it on YouTube if you prefer
Last notes on using mink oil on work boots
It's not hard to apply mink oil to work boots nor is time-consuming, You can do this over the weekend in about 10 minutes max.
Also, you can take your mink oil at work and keep it in your locker room. Let's say you start the day and it seems like you're going to have an of rain during that day you simply gran your mink oil paste and rub on your boots before going out to work.
Or if you're working in an office and you have some nice nubuck leather work boots you simply apply the mink oil spray to your boots and you should be ready to go out in the rain. This should help avoid marks on the leather due to rain drops or water.
It's worth spending the time to take care of your work boots!
Let me know if you have any additional questions about using mink oil on work boots and I'll do my best to answer them for you.
---
Team Members Working On This Page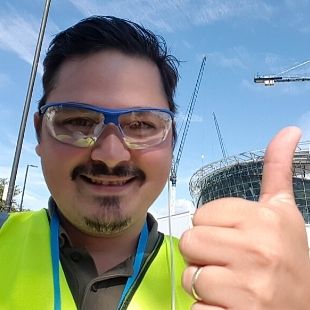 Construction Professional, driver, crane operator, cleaner, head chef … these are just some of the jobs I did in the past. Working in all these different environments taught me that having good footwear to protect your feet from different dangers at work IS PARAMOUNT for any worker! On this website, I aim to share all my knowledge and personal experience in dealing with different footwear and foot care issues, and hopefully, you can get something out of it. Enjoy!
Love technology, going to the beach, taking care of my body, and writing (amongst other things). You'll see my face around here a little bit since I'm responsible for part of the research and writing of some of the articles you're reading on BestForMyFeet.com. I hope you'll find our content helpful and enjoyable! See you around, thanks for reading!