Welcome to my review of these Avenger composite toe work boots. I bought these work boots because I heard a few people mentioning the brand a few times and, to be honest, I never heard of Avenger work boots before buying these boots and I was just curious.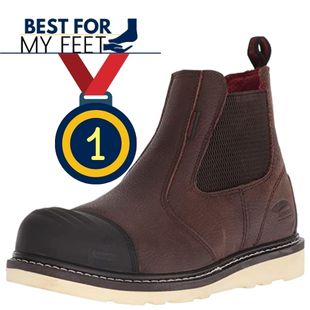 Reviewing The
Avenger A7505 Wedge Boots
Overall, a great safety toe works boot for those of you working on hard, concrete surfaces thanks to its wedge sole design. Also, the metal-free construction of these boots makes them an excellent choice if you work in an airport or if you have to go through metal detectors. Excellent boot for the money!
When you look up these work boots online or the Avenger brand you'll often see mentioned another brand called FSI Footwear Specialties. It seems like these are sub-brands of SureWerx which is a manufacturer of tools, safety equipment, and other related products which offices in the US, Canada, and Europe.
The reason I'm sharing this with you is that it was very confusing to me at the beginning. I remember browsing for Avenger work boots but then in the product description, they were saying FSI Footwear specialties…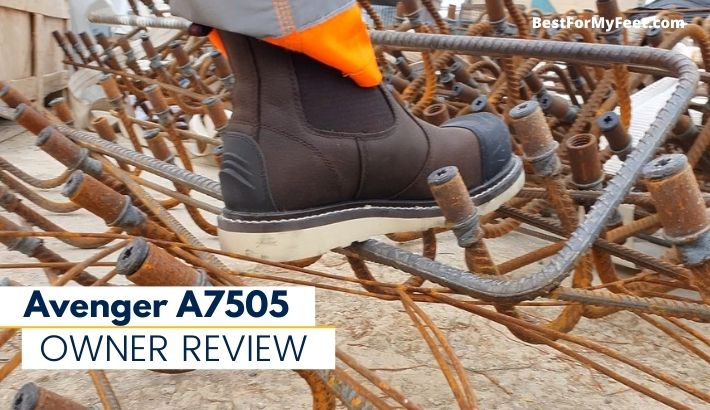 Anyway, I've used these Avenger wedged work boots on a construction site since that's what I do. They come with a carbon fiber safety toe cap so if your workplace requires you to wear safety toe work boots, these Avenger Romeo boots will do.

Today I'd love to share with you my personal experience with these Avenger work boots in case you're looking to buy a pair for yourself.
Also, I'll do an unboxing, and take some measurements of the different parts of the boots and much more. I hope it's helpful.
Buckle up cause it's quite a long review. For your convenience, I've created a menu for this page that's helpful to jump to a specific section. Just click on the "What's inside" below to open it.
Let's go!
Unboxing my Avenger A7505 slip-on work boots
Features of these Avenger wedged sole work boots
| | |
| --- | --- |
| Electrical Hazard Protection | YES |
| Safety Toe Cap | YES – Carbon fiber |
| Waterproof | YES – Waterproof membrane |
| Boot construction type | Cement construction |
| Oil and slip-resistant | YES |
| Anti-scuff toe protection | YES –Rubber toe bumper |
| Lining | YES –Fabric lining |
| Shank | YES – Nylon shank |
| Removable insole | YES |
| Outsole material | Made of PU |
| Anti puncture protection | YES – Full-length Lenzi fabric |
First impressions of the Avenger slip-on work boots
Curiosity was one of the reasons I went ahead and bought these work boots. Another reason was I liked how they looked in pictures.
Now that I have them in my hands they look even cooler. I just like the design, the colors, and everything about these boots.
I thought they are just some unknown work boot brand making good-looking work boots but crappy quality. Again, now that I have them in my hands I can say I was wrong.
Great first impressions. In all honesty, I wasn't expecting such a good quality work boot. Both because I never heard about the brand before and because of the price point.
The Avenger Romeo on the outside
Let's have a look at the outside of the boots and see what we can learn about these boots.
1. Leather quality and upper details
The upper of these Avenger work boots is made with premium full-grain leather and it seems to be of good thickness. We'll know more about that when we'll cut these Avenger work boots in half.
It's not stiff leather so you won't have to go through a long period of breaking in.
Also being a smooth leather, you can easily apply any leather conditioner to the upper if you want to make your work boots waterproof or simply want to keep the leather moisturized.
The elastic panels as well as the pull-on at the back of the boots seem to be heavy duty so they won't break easily.
2. Rubber toe cap reinforcement
A rubberized toe cap is a very helpful feature for mechanics, plumbers, electricians, floor installers, and basically anybody that have to bend, crouch, or kneel a lot.
The rubber that goes over the toe cap helps avoid early deterioration of the upper so it's a good feature to have. It might make the boot look a bit chunkier but it's a helpful feature to have.
3. Boot construction type
I first thought these Avenger 7505 work boots are Goodyear welted but after reading the product description I'm a bit confused because it says it's an Advanced Flex-welt Cement Construction.
So are those stitches around the work boots fake stitches or do they have any purpose?
Most of the time a 360degree stitch around the work boot indicates a Goodyear welt boot construction.
But as we've learned by cutting work boots in half, some companies add those stitches for decoration purposes only.
Unfortunately, I have no idea what Advanced Flex-welt cement construction but as I said above we'll know more when I'll cut them in half.
Also, I'll reach out to the company and see if they can help e out with this information. I'll update the post if I have new data.
4. Outsole
These Romeo work boots from Avengers come with a wedge sole design and it's made out of PU (polyurethane).
This not only makes the boots lighter than if they had a regular rubber outsole but also helps absorb shocks better. Boots with shock absorption and anti-fatigue outsoles are great for warehouse workers and for people working on flat, hard concrete surfaces.
The downside is that PU outsoles are less durable than rubber. So if you're like me and work on unpolished concrete floors you might have to resole the boots earlier than if you have a pair of work boots with rubber outsoles.
On the other hand, if you work on nicer, smoother floors the soles will last a bit longer. Think mechanics, retail stores, hardware stores, etc.
Here are a few measurements I took of the different parts of the outsole.
| | |
| --- | --- |
| What I was measuring | Data |
| Thickness at the heel area | 3.16mm (1.24″) |
| Thickness at the toe area | 1.93mm (0.76″) |
| Lugs depth | 2.5m (0.09″) |
5. Heel guard
We all kick things around when at work with either the front of the boot or the back of the boot. Both those areas come with additional reinforcement on these boots. At the front, we have the bumper cap and at the back, we have the heel guard.
The heel guard on these Avenger work boots is made out of TPU which is a much harder/stronger material than leather.
This will help expand the lifespan of your work boots over time since the TPU heel guard will take most of the impact when kicking things with your heels.
The majority of the work boots that do come with a heel guard have a simple, flat piece of material added to the back of the boots.
But Avenger's boot designers added a nice little touch to the heel guard of these boots which is some ridges that are very helpful when you want to kick your boots off instead of bending and taking them off with your hands.
This feature comes in super handy not just for lazy ass people like myself that simply don't want to bend to take the boots off but also for people that need to take their boots off quickly in an emergency. For example EMS workers such as EMTs and paramedics.
Think for example when you're cutting steel or maybe when you're welding.
Most of the time you're going to be just fine but if a hot chip happens to land in your boots you want to be able to take those suckers off quickly in order to avoid burns.
Inside the Avenger A7505 work boots
Now let's see what can we discover by looking at the inside of the boot…
1. Removable insole
These Avenger work boots do come with a removable insole. This is a dual-density rebound insole that provides a lot of cushioning and a tiny bit of arch support.
They're not the best insoles out there, especially if you need support under your feet. For example, if you suffer from plantar fasciitis, you need to change these insoles for something better.
Personally, I swap these original insoles with a pair of SOLE Active insoles. Those were great for arch support and keeping a better body posture during my day.
But if you are lucky enough to not have any issues with your feet, knees, or back … I guess the original insoles are going to be fine.
I'll leave you below some measurements I took of the different parts of the insole in case you might be wondering.
| | |
| --- | --- |
| What I'm measuring | Data |
| Insole's thickness at the forefoot area | 5.8 mm (0.22″) |
| Insole's thickness at the heel area | 12 mm (0.47″) |
| Insole's width at the ball of the foot area | 96.5 mm (3.80″) |
| Insole's arch support height | 2.03 mm (0.80″) |
2. Waterproof membrane
The previous pair of slip-on work boots I've had, the Blundstone BL990 with steel toe cap didn't have a waterproof membrane. But these Avenger 7505 do have one.
The waterproof membrane doesn't go all the way up simply because the design of slip-on work boots with elastic side panels makes it impossible to do so.
But as you're going to see more towards the bottom of the page where I did test the waterproof capabilities of these Avenger 7505 work boots, the waterproof membrane does its job.
It will keep your feet dry as long as you step in or work in water no deeper than 3inches.
3. Safety toe cap
The good thing about these Avenger work boots is that they come with a carbon fiber toe cap which not only makes the boots a tiny bit lighter but also airport friendly.
Airport-friendly work boots simply mean that you have all the safety features of a work boot but there's no metal present in these boots that will set off metal detectors.
The only con (in my opinion and personal taste) is that the boots look a bit bulkier with a composite toe cap. Other than that, it's great!
4. Lining
There is a bit of textile lining at the back of the boot, on top of the heel. Also, there's a bit of the same textile lining on the vamp area, kind of like where the tongue would be if you'd look at a lace-up pair of work boots.
Where are they made?
Where Avenger work boots are made it's a question I see people asking all the time and this specific model, the Avenger A7505 it's made in China according to the label of my work boots.
Will these Avenger work boots fit wide feet?
I didn't buy the wide model of these boots since I have a regular feet width. But if you buy your work boots on Amazon you'll see in the dropdown menu where you select the size that these boots come in wide in all sizes from 6 all the way up to size 17.
This is what one member of the WorkBoots sub said about this. (I'm a moderator on that sub so please join us if you want more discussion about this topic)
What do the letters stand for when it comes to the width of the boot? (W,M,D,E,etc)
There's a lot of confusion about these among people looking to buy a pair of work boots. Hopefully, the little table I've put together might help you understand what's that all about!
The letters simply represent how wide the work boots are.
| Letter | Meaning |
| --- | --- |
| N or A | Narrow |
| M, or D | Medium |
| W or 2E | Wide |
| XW or 3E | Xtra Wide |
Are the Avenger A7505 work boots waterproof or not?
We didn't have too much rain lately so I could not find a good deep puddle to step in and test the waterproofing of these Avenger work boots.
But we do pour concrete every day so after the boys have washed away the concrete skip I just stepped into the tray which was full of water and some concrete to see if the waterproof membrane keeps the water out of the boots.
The results of the waterpoof feature test
So after a couple of minutes of standing in the tray, my socks were completely dry when I came out.
I went in a second time and now intentionally I got some water over the gore panels and this time the water went into my boots straight away leaving me with wet socks for the rest of my shift.
Luckily for me, the shift was almost finished. I took my boots home and put them to dry on my PEET Boot dryer. The boots were dry by the time I had to come to work the next morning.
In conclusion, these Avenger work boots are waterproof and they will keep your feet dry as long as the water is not deeper than 3 inches or you don't throw water over the elastic panels.
Are they lightweight? How much do they weigh?
They're not that heavy or at least not much heavier than other safety toe work boots I've reviewed.
But what might be heavy for you might not be heavy for me and the other way around. That's why I'm going to leave you a picture showing you how much these Avengers A7505 work boots weigh per boot.
Are they comfortable?
Yes, the Avenger 7505 are very comfortable pair of work boots. At least for me. As I said earlier, the insole provides a lot of cushioning so the boots are comfortable right out of the box.
A common issue I hear people have after buying a pair of slip-on work boots is heel slippage. Of course, if your heel is slipping inside your work boots, it's a very uncomfortable experience, to say the least.
Something I realized while I was writing this review is that the heel on these Avenger work boots sits a tiny bit deeper than the rest of the upper of the boot. I'm adding a pic below just in case I'm not explaining this feature well.
Basically, the back of my Blundstone boots is more linear if you want compared to my Avenger boots which have a more curved design. This helps lock your heel in place in order to avoid movement and slippage of the heel when you walk.
This definitely adds to the level of comfortability of these boots.
Are they slippery?
I haven't had any issues when working on wet surfaces. I'm not sure how they will perform on greasy floors but they kept me on my feet while working on:
wet polished and unpolished concrete
grass
uneven ground
gravel
sand
Do they provide support?
As with any slip-on or pull-on work boots, they provide no ankle support hence these types of work boots are not allowed in some construction sites and other industries.
So if you have weak ankles and you're asking yourself if these work boots provide ankle support, they do not. You're better off in this case with a pair of 6 or 8 inches tall lace-up work boots.
Are they true to size? Do they run small or large?
They were true to size for me. They are a bit roomy though which can be good or bad depending on how you like your boots to fit.
There's a lot of room inside the boots which is great if you want to add some orthotics or some better insoles.
Additionally, I think they're good for those of you with a higher arch or higher in-step since the top of the boot won't press as hard against your feet as it might be the case with other work boots out there.
Heel height
These boots don't have a heel per se but the sole it's a bit thicker at the heel area so if you're wondering how tall these boots will make you look, the answer is 32.2 mm or 1.26 inches.
How tall are these Avenger safety boots?
The product description says the boots are 6 inches tall. But if I measure the whole boot it measures 7 inches at the top of the gore panels and 7.5 inches at the top of the upper.
Break-in period: Do they need breaking in?
Have you ever tried to break in a pair of work boots? It's really a pain in the back, especially with those most expensive work boots that are made with thick, high-quality leather.
These Avenger A7505 on the other hand require no breaking-in period. They're comfy and ready for action as soon as you put them on.
Price: how much do they cost?
At the time I'm writing this review you can buy a pair of Avenger Wedge sole work boots for $140. It seems like it doesn't matter which online store you prefer, they all advertise these boots at the same price.
But prices, as we all know, go up and down all the time so if you want to see if the price has changed, you can click here to see the most up-to-date price on Amazon for example.
Where to buy a pair of Avenger work boots?
There are many online and local stores you can buy these work boots from. Here are a few trustworthy sites you can buy Avenger work boots:
And this is a bigger list of stores that I found on FSI Footwear Specialties where you can find Avenger work boots.
Who do I recommend these Avenger A7505 work boots to?
Mechanics
Plumbers
Electricians
Machinery drivers (forklift, cranes, excavators,etc)
Superintendents
Handymen and handywomen
Alternatives to Avenger slip-on work boots
There aren't that many work boot models competing with these Avenger wedge sole boots, but I've selected a few models for you if you want to see what else is available out there.
Watch my review on YouTube if you prefer
Verdict: Are Avenger 7505 work boots worth the money?
So far I'm very happy with the money I've spent on these Avenger work boots. They're pretty good for the money.
They're comfortable and packed with safety features and little design details that make them stand out to me.
They also look great on your feet but some might say they look a bit bulky (and they do) but nothing out of this world. Most work boots are bulky because of all the safety features.
I love the fact that I don't have to do and undo laces in order to take my boots off or put them on. We'll see how they last or if there are any other cons as I'm going to wear them at work so stay tuned for the updates that you can find below.
If I miss anything in this review please leave a comment below and I'll do my best to answer your questions or comment!
---
More pictures of the Avenger A7505 work boots
Here are some images of these work boots. Click on the images to see them in full size. Also, if you really like one of the images, you're free to borrow the image as long as you mention where you borrow it from!
Update: 1 month of wearing these Avenger work boots
So far, so good. The boots are really comfortable even with their original insoles in there. I had to stop wearing the SOLE insoles because they were giving me a bit of discomfort in the arches.
That's because these boots have already a bit of an arch. This added to the already high arch of the insole… resulting in some discomfort so now I'm back to the originals. No big deal.
Other than that all good after wearing them for over a month on my construction job. No complaints.
Update: 6 months of wearing these Avenger work boots
The boots are still very comfortable. A little bit of damage on the outsoles in the form of cuts and little pieces of the sole being chewed away but it's kinda normal if you consider my industry.
Everything else still looks good. Keep in mind that I do take care of the boots by applying mink oil to them once per month. You don't need to do it that often. It should be work environment dependent.
If you work in a warehouse or a distribution center where your working areas is almost always dry and clean you can do it once every 3 months or so.
But on a building site, which is where I work, it's a different story. Mud, dust, wet concrete, water, and other things can dry or damage the leather of my boots quite fast. That's why I try to condition them more often than others.
Last update on the Avenger A7505 work boots
Not long after doing the 6 months update, I cut in half my Avenger A7505 Romeo work boots.
At this point, I've been wearing these work boots for about 8-9 months in rotation with my KEEN Lansing mid work boots.
They were comfortable all the way. The only thing I decided to cut them in half is because I want to test more work boots.
At the moment I got a pair of the NEW Brunt Marin Toe safety work boots to give them a try and see if they're any good or not.
Also, another reason I cut them in half is that I felt like they started to leak and I wanted to find out why! My question has been answered once I looked inside. Check out the blog post and let me know if you have any questions.
If you're looking for a lightweight, composite toe, airport friendly, wedge sole, waterproof work boot and affordable, then give these Avenger work boots a try!
---
Team Members Working On This Page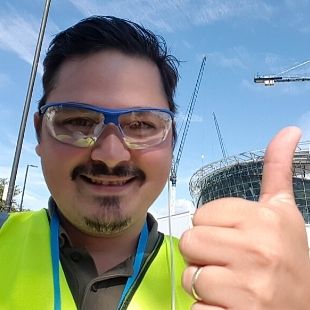 Construction Professional, driver, crane operator, cleaner, head chef … these are just some of the jobs I did in the past. Working in all these different environments taught me that having good footwear to protect your feet from different dangers at work IS PARAMOUNT for any worker! On this website, I aim to share all my knowledge and personal experience in dealing with different footwear and foot care issues, and hopefully, you can get something out of it. Enjoy!
Love technology, going to the beach, taking care of my body, and writing (amongst other things). You'll see my face around here a little bit since I'm responsible for part of the research and writing of some of the articles you're reading on BestForMyFeet.com. I hope you'll find our content helpful and enjoyable! See you around, thanks for reading!