Work boots by themselves are not going to help you improve your plantar fascia. If you already suffer from plantar fasciitis and you're wondering if buying a pair of work boots will help you in any way, the answer is: it depends!
Not all work boots will help you reduce plantar fasciitis discomfort. But they can definitely make it worse if you don't use the right work boots or accessories that WILL help with plantar fasciitis.
Keep reading if you want to find out what to look for in a work boot for plantar fasciitis and which type of work boots are popular for people with plantar fasciitis.
Not only that, but we'll share some easy exercises you can do to help that plantar fascia ligament relax a little bit and give you less pain.
But first…
Can work boots cause plantar fasciitis?
Quick answer, yes work boots can cause plantar fasciitis.
It all comes down to the fact that while work boots are by design made to keep someone safe in their line of work. Unfortunately, not all work boots provide the needed foot support to avoid the long-term side effects of working in demanding jobs.
Sometimes you can blame the manufacturer. you can say their safety boots are cheap or bad quality. But many times, for example, we buy a pair of wedge sole work boots simply because they look stylish and casual.
But they might not be the right ones for you. Yes, we all are biased. We all like to buy footwear that makes us look good, even though as I said that might come at the expense of not being good for our feet' health!
This is one of the many reasons it is essential to choose good quality comfortable work boots and not just pick up any random work boot that seems reasonable enough.
Can work boots help relieve plantar fasciitis pain?
Yes, work boots can help alleviate pain caused by plantar fasciitis. All you have to do is get a pair of work boots that provides good arch support in order to alleviate the pressure and the stress that's put on your plantar fascia.
A good work boot for plantar fasciitis will reduce the pain when you walk and with time the plantar fascia will become less and less inflamed and irritated.
This will work as long as you keep helping your feet to recover from the pain caused by the inflamed plantar fascia.
How do you do that?
Buy good footwear, massage your plantar fascia and do the simple exercises we're sharing with you below and that's a good plan to tackle plantar fasciitis.
Added medial arch support can be helpful in resolving plantar fasciitis, however, other options may be necessary to provide relief, such as cortisone injections, physical therapy, and custom-made orthotics.
Dr. Bruce Pinker – Podiatrist & Foot Surgeon
Should you take time off work to recover from plantar fasciitis?
If you have plantar fasciitis, going to work as if everything is fine and dandy will only make things worse. Especially since you're stepping on the problem and putting more stress on the ligaments of your feet.
Sooner or later, the pain will get bad to the point where the agony will make it impossible to walk.
When it comes to your health, finding courage isn't an option.
The moment your heels start aching constantly and swell up, you need to consult with a podiatrist to see just how bad the damage is to take the appropriate amount of sick days off to heal (if needed).
Many people suffer from plantar fasciitis and they're still able to function properly at work Dr. Bruce says. While it can be a debilitating condition, most people don't lose time from their job in order to heal or recover from plantar fasciitis.
Depending on the severity, you might need to take some time off to try and recover from plantar fasciitis especially if you have to go through surgery.
But luckily for you, this is not a condition to keep on your bed for months. Your podiatrist will tell you what's best for you though so make sure you consult one.
Six easy exercises you can do to alleviate pain from plantar fasciitis
According to the American Orthopedic Foot & Ankle Society (AOFAS), with six months of consistent, non-operative treatment, plantar fasciitis will be resolved up to 97% of the time.
What does this mean for you? First, with a few simple exercises (don't worry, we're not talking anything intensive here), the pain in your foot can be rapidly relieved and reduced over time.
Here are a few simple exercises that we're sure you'll be delighted at just how simple and effective they are to help you get back on your feet.
These exercises will not only be helpful to loosen up the plantar fascia ligament but will also relax various muscles in your feet and the lower parts of your legs.
6. Stretching the calf
The muscles in your feet and calves can get tight. This makes plantar fasciitis all the more unbearable, but getting those muscles to loosen up is pretty simple. All you have to do is follow these steps:
Lean on a wall with your hands
Straighten the knee of your affected leg and bend the other knee in front
Keep both feet flat on the ground.
At this point, you should feel a stretching sensation in the heel and calf of the extended leg.
Hold your position for 10 seconds.
5. Rolling stretch
A relatively simple exercise you can do to loosen up your foot muscles is to roll a rounded object back and forth on your feet. Although this sounds too simple to be accurate, it'll do wonders to heal those sore muscles, and it's pretty satisfying at that too!
Follow these steps:
Roll a circular object under the arch of the foot (anything from a golf ball, rolling pin, or specialized foam rollers can work)
4. Plantar fascia stretches
Muscle tightness around the affected area can be directly relieved with a few simple stretches:
Sit on a chair and cross the injured heel over your other leg
Hold the foot in your opposite hand.
Pull the toes toward the shin to create tension in the arch of the foot.
Place your other hand on the bottom of your foot to feel for tension in the plantar fascia.
Hold your position for 10 seconds.
Note: If it's too painful to hold your foot this way, use a towel to grasp and stretch your foot.
3. Foot flexes
Flexing your feet helps increase the amount of blood flowing into them and relieves tension in the calves. 
For this exercise, you'll need an elastic stretch band and then go through these steps:
Sit on the floor and straighten your legs
Wrap the elastic around your feet while holding the ends in your hands
Gently point your toes away from your body.
Return to the starting position slowly.
2. Towel curls
Curling a towel, or any other fabric for that matter is another suitable method to stretch the foot and calf muscles. 
You can do it after you wake up or even while doing other tasks. Follow these steps:
Sit on a chair with both your feet flat on the ground and keep a small towel or different fabric in front of your feet
Grab the center of the towel or fabric with your toes
Bring the towel or fabric towards you.
1. Marble pickups
Like towel curls, this exercise involves picking up marbles to flex your toes and stretch the foot muscles.
Follow these steps:
Sit on a chair with your knees bent and keep your feet flat on the floor
Place 20 marbles and a bowl next to your feet.
Pick up one marble at a time by curling your toes.
Place the marble into the bowl.
What features should work boots have to help people with plantar fasciitis?
A proper pair of work boots can be both a way to prevent plantar fasciitis and reduce the extent of the pain after or while recovering from plantar fasciitis.
Next time you're on the hunt for a pair of work boots, make sure to get a pair with the following comfort features:
Choosing a work boot with a more rigid midsole will act similar to the way in which an insert or orthotic works to give your plantar fascia support during long work days.  Avoid work boots that are overly flexible as these will not offer the plantar fascia the support that it needs.
Dr. Anne Sharkey – Podiatrist D.P.M
Supportive Insoles
Pretty much every work boot has an insole. Yet, proper work boots include durable cushioned insoles that provide arch support to reduce stress. They also match the shape of each foot to give maximum stability and support.
Specialized medical orthopedic insoles can be purchased separately and worn in work boots. Some work boot manufacturers even include anatomically correct insoles. These insoles combine both firm and soft cushioning to support the different areas of the foot.
Here are a few insoles I've used to fight back the plantar fasciitis discomfort:
Shock Absorption
How often do you walk at work? Even if it's not much, each step on hard surfaces like concrete creates an impact that, over time, can cause damage. For that reason, it's important to choose work boots that are shock absorbent to spread the force of each step and prevent your feet from absorbing the shock. 
Cushioning
Comfort is not a luxury. It is a necessity to be able to work. To provide full support and lasting comfort many manufacturers cushion the footbeds and interiors of their work boots to prevent pain and discomfort. Along with protecting the feet from blisters and chafing, and other common issues found in boots without cushioning. 
Heels
The majority of the body's weight is placed on the ball of the foot, making it one of the most important places where your feet require support. Medium-sized heels are recommended to provide the best balance and stability for your feet.
If your work boots' heels are too high, it can cause tension to the ligaments, whereas low heels don't provide enough support, and flat boots have no support whatsoever. 
Correct sizing 
Wearing the proper size is essential to keep your feet in a healthy position and reduce overall pain, which is why you should opt for a pair of work boots with a snug fit that doesn't let your feet slip from inside.
What work are boots good for plantar fasciitis?
Hunting for work boots that have foot support and highlight comfort front and center can sometimes be like looking for a needle in a haystack, especially since there are so many options to choose from.
To save you the hassle, we've picked three of the best work boots that can help reduce the pain and let you work more comfortably. But there are a ton more options out there so please free to do more research. Check out this more extensive list of great work boots for plantar fasciitis sufferers.
The 90-degree heel provides added support
400g Thinsulate™ Ultra insulation
Mesh lining for added airflow and comfort
Extra comfort insole with 4LR technology has maximum cushioning with a higher rebound for added support.
Shock-absorbing EVA midsole
On these pages you can find more similar work boots:
Rigid external heel cup for lateral stability
Fiberglass shank for structural support
Composite toe boot wich makes it lighter than other boots.
Dual-density dynamic anti-fatigue technology absorbs shock and returns energy at key zones of the foot.
Relevant pages where you can find similar boots:
Climasphere™ breathable insole keeps your foot comfortable
Engineered nylon mesh lining optimizes breathability and comfort.
Steel Shank for added support and stability
Removable PU Sock Liner provides all-day comfort.
Similar pages if you want to do more digging:
Conclusion: can work boots help with plantar fasciitis?
Plantar fasciitis can be an absolute nightmare to deal with. If you notice sharp pains in your heels early on and switch to comfortable work boots you will not have to deal with the dreadful pain that only gets worse with time.
We get it. Sometimes all those added comfort features work boots incorporate might seem like extra bells and whistles. You might think they don't add any value to real-life work scenarios. But trust us, in the long run, your feet will thank you for it. 
So work boots CAN help alleviate the plantar fasciitis pain but also can make it worse. They can help in the sense that some work boots can provide you with better support helping you relax the plantar fascia and getting back to normal.
Whereas if you don't pay attention to what boots you're buying, what insoles you have, etc then your work boots can make your plantar fasciitis worse.
Remember, if you don't tackle the main reason causing you pain, you're essentially going in circles and increasing the overall damage being done to your foot. 
Eternal resources if you want to do some extra reading:
---
Team Members Working On This Page
Love technology, going to the beach, take care of my body, and writing (amongst other things). You'll see my face around here a little bit since I'm responsible for part of the research and writing of some of the articles you're reading on BestForMyFeet.com. I hope you'll find our content helpful and enjoyable! See you around, thanks for reading!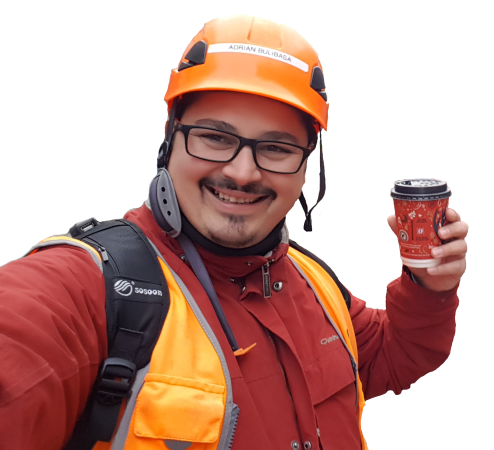 Construction Professional, driver, crane operator, cleaner, head chef … these are just some of the jobs I did in the past. Working in all these different environments taught me that having good footwear to protect your feet from different dangers at work IS PARAMOUNT for any worker! On this website, I aim to share all my knowledge and personal experience in dealing with different footwear and foot care issues, and hopefully, you can get something out of it. Enjoy!
Our Experts In Plantar Fascitiis
I am a board-certified podiatrist based in Texas. I am also a wife and a mom. When not working I enjoy reading, coffee, traveling, cycling on my Peloton, and photography. I believe in individualized treatment plans based on each patient's goals. I believe that being both a mom and physician is absolutely possible. Also, I like to land a hand when needed answering foot-related questions here on BestForMyFeet.com. By the way, if you have any questions let's book an appointment at https://www.northaustinfeet.com/ and talk about your feet.
I am a board-certified podiatrist and foot surgeon based in New York. When not treating patients I enjoy exercising regularly by cycling 30-40 miles/week and lifting weights, writing music and playing the piano/synthesizer, and spending quality time with my family.  My approach to medicine includes offering many different treatment options to my patients so they can choose the one that is best for them. I enjoy helping out the guys here at BestForMyFeet.com answering questions related to foot problems. If you have concerns with your feet, feel free to schedule a consultation with me at ProgressiveFootCareNY.com and I will be happy to address your concerns.