In a world of rough jobs, it's easy to assume that steel or composite toe caps are ideal for every worker, but that's not exactly the case.
Soft toe work boots protect workers from microbes, bloodborne pathogens, slippery surfaces, wet environments, and other hazards.
At first, it might sound weird not to have a reinforced toe cap, but with every field comes different types of risks.
Keep reading to find out what exactly is a soft toe work boot if it's right for you.
What is the meaning of soft toe work boots, and what are they for?

Soft toe work boots are work boots that do not have a reinforced toe cap. Although steel toe (and alloy and composite) work, boots are considered the golden standard for safety.
They are not suitable for every type of job due to their weight. In addition, for various kinds of workers, there are much more significant risks than sharp or falling objects.
Flexibility and staying light on your feet is essential in jobs that pose such risks, where soft-toe work boots come in.
What are soft-toe work boots made of?
Generally speaking, soft toe work boots are reinforced with lighter materials such as rubber or thick leather around the toe area.
In most cases, the material around the toe cap is the same material used in the rest of the work boot's upper.
Despite lacking steel or other solid materials, soft toe work boots share many similarities with safety toe work boots in boot construction, materials, insoles, and outsoles. 
The only real difference is the lack of a protective cap. Otherwise, a soft toe work boot can, and often is, from the same materials that other work boots are made from.
Are soft-toe work boots OSHA approved?
Yes, soft-toe work boots are OSHA approved. Yet, this generally depends on your type of job and workplace requirements. 
While OSHA compliance differs from model to model, soft toe work boots provide minimum toe protection that meets various ASTM standards revolving around electrical hazards, static discharge, and slip resistance.
Soft toe work boots vs. safety toe work boots (steel toe, composite toe, etc.)
Still not sure if soft toe work boots are for you? Choosing the right work boot is one of the hardest things to do if all three types seem to meet the requirements of your job.
Not to worry though, we're here to help you make the right choice to get what's best for your feet!
Here's a couple of related pages if you want to do more digging into the topic:
To break it down, here are a few quick methods to know which type of work boot should you go for:
Are you dealing with heavy and sharp equipment?
If so, a soft toe boot is not something you should consider; instead, opt for steel toe work boots.
Does your job need you to be flexible and have the most agility?
If so, a soft toe work boot's lightness and lack of any material constraining your toe's movement will fit your needs.
Do you work in subzero temperatures?
If so, avoid steel toe work boots and go for soft toe footwear. A work boot with padding might reduce the impact of the weather.
Note: as much traction as a pair of soft toe work boots may offer, if they're not designed to double as snow boots, then you need to upgrade your work boots either way.
Does your job have metal detectors?
If so, a steel toe work boot is not an option. Instead, a soft toe or even a composite work boot would be a better choice.
Note: some soft toe and composite work boots have supportive steel parts such as steel shanks.
Pros of soft toe work boots
They can be used in magnetic work fields.
Cons of soft toe work boots
No protection against impacts or heavy objects
Not suitable for industrial jobs
When to choose soft toe over safety toe work boots?
Aside from job requirements, price and comfort are some of the main reasons workers opt for soft-toe work boots.
Since soft toe work boots do not have additional material in the toe area, they tend to be lighter, affordable, roomier, and more comfortable. This is true for workers struggling to find the right balance between foot size and comfort.
As with any other work boot, a critical aspect to look out for is their features.
If you're opting for a pair of soft toe work boots and don't specifically need steel, alloy, or composite toe protection, make sure your work boots have these must-have features:
Leather or nylon uppers for better stability
Waterproof lining to prevent chemicals and other elements from entering your foot
ASTM ratings depending on your job's requirements and hazards
What industries are soft-toe work boots good for?
If you work in construction, logging, or other industries where there are risks of falling, piecing, or rolling objects, you don't want to be caught in a pair of soft-toe work boots.
However, for jobs that involve chemical, microbial, airborne pathogen, and slippery hazards, a soft toe work boot will provide you with the protection you need to stay safe on the job.
For example, if you're pouring concrete the biggest danger is to have that wet concrete going into your boot provoking serious burns.
Remember, a work boot isn't solely defined by its toe cap but rather by its ability to protect your foot while you're on the clock.
Here are some jobs where soft toe work boots are ideal:
Where can you buy soft-toe work boots?
High-quality soft-toe work boots are easy to find if you look in the right places; in fact, you can find them in your local safety gear outlet.
Suppose you prefer the convenience of shopping online. In that case, you'll be pleased to know that Amazon, Walmart, and other reputable online stores offer great prices and choices.
Some people prefer shopping from the manufacturer's websites, so if you're a fan of a specific brand, the good news is that most brands such as Ariat, Caterpillar, and Wolverine offer direct purchases from their online stores.
Example of 7 popular soft toe work boots
While the lack of toe protection might not put them in the same league as steel toe work boots, soft-toe work boots hold their ground in reliability mainly since they are produced by the same manufacturers of safety toe footwear.
If you're on the lookout for a reliable pair of work boots, we've taken the liberty to simplify your journey. We rounded up what we think are some of the best examples of this category of footwear. They're listed in no particular order. So the 7th is as good as the 1st. They're just different styles!
Nature is an unpredictable force. For a worker, there's no time to guess or predict what they're about to face. Instead, they need to plan and be prepared for anything, and that's just what the KEEN Pittsburgh work boots aim to do.
It is designed to fend off fatigue and preserve a worker's energy instead of wasting it while trying to move their feet. These work boots offer a fusion of versatility, durability, and cushioning with a contoured heel-lock. The heel-lock is for a secure fit and full-on foot support.
Featuring a stylish Nubuck exterior that's also waterproof, the membrane of the leather used is breathable.
To the bottom, you get a 90-degree heel and rubber lug sole pattern. The rubber lug sole provides a stable grip even on the slickest surfaces. 
You also get electrical hazard protection compliant with ASTM F2892-11 EH standards, oil resistance, abrasion resistance, shock absorbance. On the inside, your foot gets greeted by a dual-density EVA footbed that provides cushioning with every step.
They are designed to provide enhanced job performance day in and day out. Timberland's Direct Attach work boots are for on-site survival to meet the needs of the most rigorous work sites.
Featuring waterproof leather, seam-sealed construction, and Thermolite insulation, you get to focus on the job at hand without having to worry about your foot when you wear these work boots.
We mentioned that these are seam-sealed. However, they're breathable at the same time and get rid of moisture. In this way, you don't have to suffer from a case of humid work boots at the end of the day.
The midsoles of these work boots are also lightweight. They're made out of blown-thermal plastic that adds to their overall flexibility. The inclusion of a contoured nylon shock-diffusion plate provides extra support. 
You also get an open-cell polyurethane footbed with antimicrobial treatment for breathable comfort and odor control on the inside.
The Wolverine Floorhand work boots are ideal for workers on the lookout for a soft toe work boot with a premium look thanks to its waterproof full-grain leather upper that extends to the shaft to keep your feet dry and a rubber outsole that allows you to step with confidence.
If you're looking for a lightweight option, you'll like the lightweight cement construction and slip-resistant lug to keep your feet stable in slippery conditions.
You also get sturdy metal eyelets to secure your foot. At the same time, to the inside, you'll find a padded tongue and collar for added comfort, along with a fully removable cushioned footbed.
A couple of related pages to Wolverine if you want to do more digging!
If you're a worker, you can bet Ariat has a model that's right for you, and their Groundbreaker line of work boots live up to their reputation.
These work boots feature a Duratread rubber outsole that is both oil and slip-resistant and a 90-degree heel. The heel gives the added foot support, not to mention maximum traction on any terrain without sacrificing comfort.
With its distinctive western styling, four-row stitch pattern, and sturdy build, the Groundbreakers are ASTM 2892-11 EH rated while incorporating Ariat's Four Layer Rebound technology for added comfort along with mesh lining for better airflow and breathability.
While perfect for various terrains, some reviews pointed out that they aren't the best choice for frozen surfaces. With that said, this is common with all other work boots not explicitly designed to tread on snow.
It is made using full-grain leather tanned by hard-working folks. At Red Wing (the parent company of Irish Setter), the material of these work boots scores high on the durability scale. It also meets the needs of workers in need of footwear to keep up with the pace of their job.
The EVA outsoles on these bad boys are tested to withstand hot surfaces and heat-resistant to melt at a minimum of 475°F/246°C, along with ASTM F2413-11 electrical hazard compliant protection.
To the inside, you get a nylon vamp and a removable Polyurethane footbed 
Combining wedge style with durability and comfort, these Goodyear welt work boots from Carhartt are entirely waterproof.
So keep your feet dry in the wettest conditions where a protective safety toe is not needed or required.
Water isn't the only thing these work boots protect you from. They protect against accidental contact with electrical circuits up to 18,000 volts (in dry conditions, of course). In addition, they are ASTM f2892-18 EH compliant.
Comfort is also where these boots shine. Their PU and foam-cushioned insoles provide foot support and reduce fatigue. If you liked these great wedge sole work boots just keep in mind that their sole is not that great on wet surfaces. So if you tend to work a lot in presence of wet surfaces, go for something with a rubber sole.
Caterpillar's pull-on style work boots go back to basics. They take orders and let workers march through the day without breaking a sweat.
The Revolver's Goodyear welt construction adds to the boot's durability. They feature a full-grain leather exterior to keep you protected.
In addition, it offers flexibility to the forefoot, while a nylon mesh lines the interior for added breathability and comfort.
Please don't mistake these boots for being light on features. They pack in a shock-absorbing PVC midsole. The midsole adds to their strength while adding support for use in demanding job environments.
You also get a Taibrelle and PU Sock liner in the comfort department. This adds to the work boot's durability and cushioning.
The takeaway about soft toe work boots
As you've seen from reading the article and our previous articles, we stress knowing your job requirements and the level of safety you need.
This rule doesn't apply to the material used in the safety cap; it applies to every other type of safety footwear out there.
Before we sign off, we'll leave you with one last important aspect to consider:
The quality and type of soft toe work boot you get.
Sure, a pair of off-brand work boots might seem to be more than enough for your job. But at the end of the day, we're talking about your feet' safety and integrity, which let you do your job and earn your bread and butter.
That's why no matter what, avoid going for low-quality soft-toe work boots. Instead, stick to trusted brands that prioritize safety and comfort.
So, if you're looking for a pair of soft-toe work boots and they suit the conditions of your job, go for it!
---
Team Members Working On This Page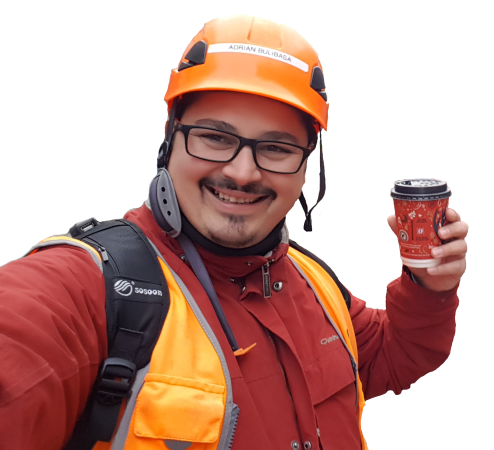 Construction Professional, driver, crane operator, cleaner, head chef … these are just some of the jobs I did in the past. Working in all these different environments taught me that having good footwear to protect your feet from different dangers at work IS PARAMOUNT for any worker! On this website, I aim to share all my knowledge and personal experience in dealing with different footwear and foot care issues, and hopefully, you can get something out of it. Enjoy!
Love technology, going to the beach, take care of my body, and writing (amongst other things). You'll see my face around here a little bit since I'm responsible for part of the research and writing of some of the articles you're reading on BestForMyFeet.com. I hope you'll find our content helpful and enjoyable! See you around, thanks for reading!