I've got my hands on some pretty awesome Thorogood Emperor Toe cap work boots at a very, very low price and I wanted to quickly share with you my experience wearing these boots and other helpful information.
A wide-toe box safety toe boot
you might miss out on
The reason you might miss out on them if you don't act fast is because they are being discontinued and they're selling really cheap (some places cheaper than others).
If you click on both Amazon and WorkWorld price buttons from above you'll quickly realize that the pricing is quite different.
Below I'll explain more in detail why is that. It's very important to know so please keep reading.
Which boots are being discontinued and why?
Well, according to Thorogood's rep on Instagram, the whole Thorogood Emperor series is being discontinued, so that includes:
Here are a couple of reasons I think Thorogood Emperor Toe work boots are being discontinued (could be more but I think these are pretty valid) :
it wasn't a very successful boot in terms of sales
some issues with the toe cap not passing the safety tests
Why the difference in price?
There is one big, BIG difference between the Thorogood Emperor Toe boots you'll find for example on WorkWorld website vs Amazon and other sites.
The boots at WorkWorld ARE NOT safety-toe capped even though they do have a composite toe cap (I know. Confusing. I'll explain more below). The model of this particular boot is 814-4578 and this one is heavily discounted.
You'll find another model on the majority of websites that sell work boots which is the Thorogood Emperor Toe 804-4368. If you're after an ASTM-certified composite toe work boot then this is the model you should go for.
So don't get confused here. I know many of you will rush to buy the boots where you can find them cheaper but then you might end up buying the wrong boots.
Thorogood Emperor Toe 804-4368 (Safety toe cap)
Thorogood Emperor Toe 814-4578 (Non safety toe cap)
What's wrong with the Thorogood 814-4578?
Before you even get into reading any of the lines in this review, you need to know that these boots are not safety boots.
When I first posted about this offer on the Work Boots subreddit, some people were skeptical about the post, some people were saying that the boots are not OSHA-approved.
The person saying the boots were not OSHA-approved was right in the sense that these boots do not meet the requirements necessary to work in industries where a safety toe is required.
They were built as a composite safety toe work boot but the toe cap didn't pass the ASTM tests which means the boot can not be sold as a safety toe work boot, even though it has a safety toe cap per se.
That's why you're getting a nice deal on all the Thorogood Emperor toe cap boots.
But if you're working in construction or any other industry where a safety toe boot is required, you should not buy these.
Is this some kind of scam?
Nope, I understand if you guys out there are skeptical about this offer but Weinbrenner ( Thorogood's parent company) confirmed the story about the composite toes failing testing.
Not only that but I end up buying a pair of these Thorogood Emperor toe cap myself and I'll share my experience below.
We're not going too deep into analyzing this work boot since it's going to be discontinued anyway but I'll share some of the most important things that stood out to me.
What exact model this Thorogood boot is?
This particular Thorogood Emperor I've got is the model 814-4578.
You won't find much online about this model and that's probably because this model was assigned to this particular batch that didn't pass the safety tests.
Initial impressions
Out of the box, the boots look great! Very nice oily and soft leather in a walnut brown color. Thorogood calls it Briar Pitstop.
I really like how they used the off-white midsole with this boot to create a nice color contrast that dresses up the boot a bit.
The Emperor toe box
The part of this review that really matters! It is called the Emperor toe after all.
Let me start off by saying these have a very spacious toe box. Probably one of the most spacious I've seen for this style of boot.
Thorogood states that these boots have 33% wider and 33% taller toe box than the standard toe box on the heritage line of boots.
These boots feature a composite safety toe. Inside the boot, there is padding sewn around the contact points where your toes might make contact with the safety toe.
I was a little skeptical about the padding a first but it definitely helps the comfort level of the boots.
The toe box measures just under 4.250 inches wide compared to my Thorogood Moc Toes which measure just over 3.750. So you're getting close to a half inch of extra toe room.
Keep in mind that moc toe measurement is after I've worn the boots for about eight months and stretched them out.
Wider footbed
The other thing I noticed is that my feet don't hit the welt. On the Moc toes the outside edges of my foot actually hang over the welt which can be felt by the end of the day.
On top of that, there is always a feeling of my pinky toe hanging over a ledge.
I don't get that in the Emperor toe boots and I have positive foot contact across the whole boot.
Inside the boots
Inside the boot is unlined leather with a removable single-density polyurethane insole.
Under that is a foam poron footbed that is a little thicker than the one in my Moc toe boots.
Do they require breaking in?
These boots have needed little to no break in. They're super comfortable right out of the box with minimal heel slippage. This is probably due to the leather being so soft.
I will say that you may experience a little pain around the ankles, where the gusseted tongue creases (see pic below), until the tongue breaks in. The tongue seems thicker than the tongue on my moc toes.
Arch Support
The arch support on these is pretty good, I'd rate it 7/10.
If you have a fairly average arch these boots should provide sufficient support.
However, if you have a high arch or you are used to logger-style work boots or similar with a high arch and tall heel these may seem a little flat.
Good news is, they have a removable insole so you can swap it out for something with more support.
Price point and where you can buy them
It really depends on where you go. As I said they are being discontinued so Thorogood can introduce new styles.
They've done it before in the past with this particular style. So they may come back again. The price point can range from $200 all the way down to $99.99 depending on where you go.
Midwestboots.com
Bootbarn.com
Amazon.com
Overlookboots.com
Workworld.com
I bought mine online at WorkWorld.com if I didn't mention this before.
Final thoughts on these Thorogood Emperor Toe work boots
I think these are phenomenal work boots and a very underrated pair of boots. It's a shame Thorogood is discounting these boots as this model was probably the only Thorogood work boot that fit wider feet.
Also, I think Thorogood has done a poor job of marketing these boots with as many online posts as I see about people wanting Goodyear welted heritage-style boots with a wide-toe box.
The Emperor toe gives you just that and it's a shame it's getting shelved when there is such a market for them. It's an even better deal if you don't need the safety toe and can take advantage of the deal at Work World.
You can buy these boots in D and EE(wide) in either 6 o 8 inch height. They also make a 10-inch Wellington version of these too. My boots are 11.5D and 8 inches.
If you're one of my wide-footed brethren this boot may very well be for you!
My advice is to stalk the above sites, especially as we move towards the holidays. I expect to see some really good deals on these as retailers are trying to get rid of stock as the year comes to a close.
I have a high level of confidence that I'll really enjoy these boots even more as they fully break in and I'm pretty sure they may just be what's best for my feet.
If you want to see more images of this boot, check out the Pinterest account.
---
Team Members Working On This Page
Hey, I'm Adam. I'm a welder and metal fabricator. Primarily doing aluminum tig a sheet metal fabrication. Spend most of the day on my feet on concrete floors in the shop with the occasional job site visit.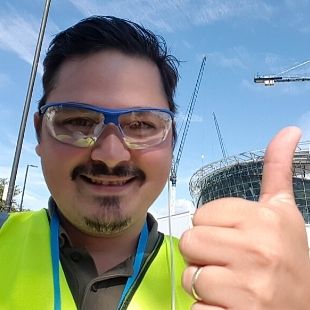 Construction Professional, driver, crane operator, cleaner, head chef … these are just some of the jobs I did in the past. Working in all these different environments taught me that having good footwear to protect your feet from different dangers at work IS PARAMOUNT for any worker! On this website, I aim to share all my knowledge and personal experience in dealing with different footwear and foot care issues, and hopefully, you can get something out of it. Enjoy!